The powerHouse Arena invites you to celebrate the launch of
It's Just Begun: The Epic Journey of DJ Disco Wiz,
Hip Hop's First Latino DJ
By Ivan Sanchez and Luis "DJ Disco Wiz" Cedeño

Music by Grandmaster Caz, Master of Ceremonies for the Evening. Featuring performances by Prince Whipper Whip, Poison Pen, DJ GI Joe, Bocafloja, Hst, Circa '95, Alvare, Eye-N-See, Hasan Salaam, and Rebel Diaz. Readings by Nile Rodgers, Charlie Ahearn, and Jamel Shabazz.
Entrance is $20 at the door and includes a copy of the book
or click here to purchase online and pickup your book at the event!
Books may be pre-ordered when you RSVP.
RSVP: itsjustbegun@powerhousearena.com
Friday, June 5, 2009 from 5:00-9:00pm
The powerHouse Arena, 37 Main Street, Brooklyn, NY 11201
Invite Only
Book Release After Party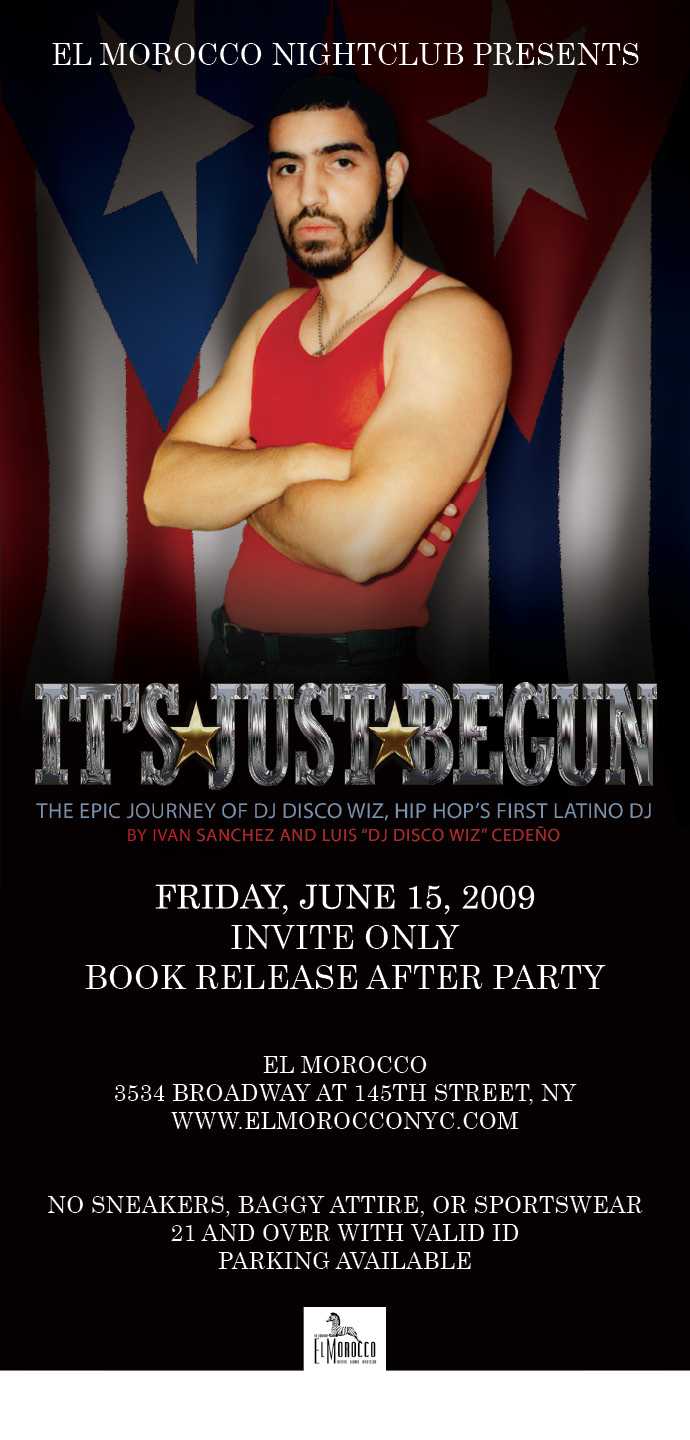 "There are no punches pulled, no shorts taken, no inconvenient truths omitted here. The story of DJ Disco Wiz is a searing, powerful, heartbreakingly real hip-hop story. A must-read."
—Jeff Chang, Can't Stop Won't Stop: A History of the Hip-Hop Generation
"If there are words to describe DJ Disco Wiz they would be 'true survivor,' born in a time when war and injustice was the state of America. This book is a must-read for all fathers, mothers, sons, daughters, and educators alike, so that one may understand the pain that so many young people born in harsh conditions have to endure."
—Jamel Shabazz
"It's Just Begun has opened my mind up to so much more about hip-hop history than I could've imagined, and is a sure-fire tool to help younger generations understand the volatile 70s decade in all its mess and glory. DJ Disco Wiz represents for all Latinos who have ever grabbed a set of headphones since. Estoy tan orgulloso de él."
—DJ Bobbito Garcia
Half-Cuban, half-Puerto Rican, Luis "DJ Disco Wiz" Cedeño is 100 percent Boogie Down Bronx. Born in the 60s, Wiz struggled in a turbulent and violent relationship with his alcoholic father while trying to protect his mother who was suffering from breast cancer. Raised in the 70s, Wiz learned the code of the streets while hustling with his crew, the East Side Boys. In 1975, Wiz discovered salvation when he hooked up with the legendary Grandmaster Caz to form the Mighty Force Crew, waging some of the biggest DJ battles in the Bronx during hip hop's earliest years.
When Hip Hop first hit, the DJ was king. Rockin' the party on two turntables for the b-boys and fly girls on the dance floor, DJs like
Kool Herc,
Afrika Bambaataa, and
Grandmaster Flash pioneered an art form that has come to define our times. The first Latino DJ in the game, Wiz, along with Caz, went on
to make a "mixed plate" in 1977 which combined sound bites, special effects, and paused beats. An innovator, originator, and a battle-style DJ with no fear, Wiz swept through the Bronx like a tornado.
But the streets wouldn't leave him in peace. After being convicted on an attempted murder charge, sentenced to nine years in prison, and forced to leave his baby daughter, Wiz was incarcerated upstate at the tender age of 17, where he learned the true meaning of desperation. But as time went on and he overcame his struggles with violence, drugs and alcohol, and women, Wiz eventually liberated himself from the path of self-destruction through love, self-respect, and self-determination.
Featuring over 50 never-before-seen photos, It's Just Begun: The Epic Journey of DJ Disco Wiz, Hip Hop's First Latino DJ is a gritty and gripping tale of one man's struggles to not only survive, but to triumph over adversity and abuse that will make your blood run cold. By conquering unimaginable obstacles, Wiz offers inspiration to anyone who has ever wondered, "Why me?"
Author Bios
Luis "DJ Disco Wiz" Cedeño
, the first Latino hip hop DJ, is credited for being the first DJ to make a "mixed plate" in 1977 along with Grandmaster Caz. In the years since, Wiz has been an influential force in educating the world about the early years of hip-hop. Wiz was a major contributor in the opening of the Experience Music Project in Seattle in 2000, and was instrumental in the making of Jim Fricke and Charlie Ahearn's Yes Yes Y'all
(Da Capo Press, 2002). He was also featured in the Emmy-nominated VH1 Rock Doc NY77: The Coolest Year in Hell,
and is the creator and founder of the Hip-Hop Meets Spoken Wordz series.
Ivan Sanchez
is the author of
Next Stop: Growing up Wild Style in the Bronx
(Simon & Schuster, 2008), and was awarded the National Novel honors for his first fiction offering in 2004. His work has appeared on
SaborHR.com
,
SiTV.com
,
and HipHopGame.com
, and he is currently developing a TV series based on Next Stop,
with the help of April Lee Hernandez. Sanchez is also an anti-gang youth advocate and motivational speaker, who works with the Virginia Beach Police Department's gang unit.
Performer Bios
Born Curtis Brown in the Boogie Down Bronx, New York City, in 1960, Grandmaster Caz is a former b-boy and graf writer who graduated to the ranks of the DJ elite in 1974 under the name Casanova Fly with partner, Disco Wiz after witnessing a Kool Herc indoor jam. After Wiz's departure, Caz formed the Mighty Force featuring Whipper Whip & DotaRock, the original Salt & Pepper MCs. Casanova shortened his name to Caz and adopted the title Grandmaster after a lightening fast turntable exhibition at a Bronx hip hop spot. After Whip & Dot's departure, Caz regrouped to form the Mighty Force Five, then soon began to perform as the Notorious Two with original Mighty Force member JDL. Then joined the Cold Crush Brothers in 1979, after Caz penned Big Bank Hank's lyrics for "Rappers Delight" (inadvertently making Caz Hip Hop's first ghostwriter). Caz's innovative rhyme style and routine writing propelled the Brothers to legendary hip hop status as one of the most dynamic and imitated groups in hip hop history. The Cold Crush recorded three singles on the Tuff City label, including the hit, "Fresh, Wild, Fly & Bold." Caz enjoyed a solo career, recording the album "The Grandest of Them All" and in 1986 won The New Music Seminar's MC Battle for World Supremacy. Caz's love and passion for hip hop continued throughout the 90s, first as DJ and host at LA's hottest club, United Nations, and as council member of West Coast Zulu Nations BX contingency. While in LA, Caz did a remake of his famous "Yvette" rhyme for Malcolm McLaren's New World Famous Supreme Team album and toured with Ice-T and his Rhyme Syndicate. Caz also performed at the Rapmania Pay per View special in 1991. He appeared and performed in the first hip hop movie, Wild Style, as well as in documentaries Rhyme & Reason, The Freshest Kids, Beef I & II, MTV's Back in the Day, VH1's Hip Hop Babylon, as well as VH1's five part History of Rap documentary. Caz has been voted 11th of the 50 Greatest MCs of all time in Blaze magazine, 10th on Ego Trip's list of the Greatest MCs of all Time, and 6th of the True 50 Greatest MCs of All Time by fellow rap pioneer Kool Moe Dee in his book, There's a God on the Mic. Caz has been elected to the DMC DJ Hall of Fame; inducted into the Zulu Nation Hall of Fame along with the Cold Crush, and has also received proclamations from the Brooklyn Council Woman's office, the Bronx Borough President, and the City of New York. Director of Entertainment Relations and Co-Founder of the first authentic Hip-Hop clothing brand Sedgwick & Cedar, Caz was recently featured on Ice T's Rap School and VH1's White Rapper Show. The legend continues.....
MYSPACE.COM/GRANDMASTERCAZ
FACEBOOK.COM/GRANDMASTERCAZ
Prince Whipper Whip, a Puerto Rican emcee from the Bronx, is a true Hip Hop pioneer. He began his career performing live with his partner Dot-A-Rock, and soon both helped to form the Cold Crush Brothers. The pair left the Cold Crush to work with the inventor of the scratch, Grand Wizzard Theodore, forming the group, Grand Wizzard Theodore and the Fantastic Five Emcees. Whipper Whip was featured in the seminal Hip Hop film, Wild Style, and has collaborated with artists from both the early days of Hip Hop and the new school, including Grandmaster Caz, Kool DJ Herc, Ice-T, Afrika Islam, the Beatnuts, Z-Trip, and DJ Honda. Also know as Papi Chulo, Bronx Puerto Rican, and Ese Loco El Vos, Whipper Whip has continued to make music, and has performed at the Apollo Theatre in Harlem and the Palace in Hollywood, in addition to touring extensively worldwide.
Poison Pen is a battle emcee turned street prophet. The Brooklynite started rapping in 1996 at the first online Hip Hop radio station, 88HipHop.com, before tearing through the NYC battle circuit. After participating in the Blaze Battle, Pen decided to retire from the circuit in 1999. He soon founded his own competition, Da Cypha Emcee Battles. He has recorded a number of his own singles and performed on tracks with the likes of MF Doom, Immortal Technique, and the Beatminerz. In addition to his music career, he has lent his voice to the top-selling video games, The Warriors and Grand Theft Auto: Liberty City Stories, and has appeared on TV and in film in Dave Chapelle's Block Party, VH 1 Hip Hop Honors, and MTV's The Shop, and Direct Effect. Poison Pen tours internationally, and has hit both the U.S. and Europe with the gutter mentality and linguistics that fans have grown to love. www.myspace.com/poisonpen
Born in Manhattan, DJ GI Joe grew up in Alphabet City at Albizu Campos Plaza on 12th St. and Avenue C. When he was about 15 years old, his mother bought him his first set of turntables, some speakers, and some cassette players. Joe linked up with Full Circle, a breaking crew created by Quick Step and Rockafella. Joe began doing shows with them as a bboy and gained popularity more so for his bboying than his DJ'ing. Joe soon found himself opening shows for such notable names as Kanye West, John Legend, and more. Joe became tour DJ for Immortal Technique, as well DJing for Chino XL, Swave Sevah, Poison Pen, Diabolic, Akir, Da Circle, J Arch, as well as tours featuring the QN5 collective and Redman. He has performed in various countries across the world including Morocco, Colombia, England, Germany, The Netherlands, Sweden, and more. www.djgijoelive.com
Hailing from Mexico city, Bocafloja
strives in search of alternative forms of classic hip hop structure in the form of MC.. With four solo albums, the production of two compilation albums, one published book and presence on stages that extend all over Latin America and the United States: from SOB'S in New York to the cultural center bank of brazil in Rio de Janeiro, from Venezuela to Cuba, from Puerto Rico to the Dominican Republic, from east L.A to Paris-as well as innumerable appearances throughout México. Bocafloja was presented with the DJ & Clubbing Awards' Hip Hop Artist of the Year Award 2006 in Mexico, and "el manual de la otredad" as the best hip hop album of the year by Budweiser's Indie-O Awards in 2008. Bocafloja has shared the
stage with such artists as Dead Prez, Afu-Ra, Ozomatli, Brasil's finest Mv bill, J-live, Freestyle Fellowship, Immortal Technique, K'naan, Rascalz, Intifada, Actitud Maria Marta, and SieteNueve, among others. Founder of QUILOMBOARTE, an organization that seeks to produce cultural events in which HIP HOP functions as an educational tool and an essential collaborative adhesive to social and political leftist movements in the processes of transformation throughout Mexico and Latin America.
www.bocafloja.org
Hst (Hache st). was born and raised in the city of Santiago de Los Caballeros, located in the northern region of the Dominican Republic, also called El Cibao. He reflects the unknown side of Dominican Hip Hop. A well delivered mix of intelligent rhymes, profound criticism of the governmental systems and a bit of Philosophy make him a one of a kind emcee. He has collaborated with Andino (Ecuador), Souchi (Espana), and Loud and Flava (Dom Rep), and recorded the album Filosofia Caribeña, a classic in the underground Hip Hop. He started a group called Espadasofia, Hache st, Sheng, Ruben and Willproducer, which became one of the most respected groups in Latin America. Their song "Nada es Como Antes" (2004) ranked number 1 on download.com but due to difficulties, they were not able to finish their album. In 2006, Hst and Willproducer released the album "Botando el Golpe". Hst has been working with many of the greatest representatives of the Latin Hip hop scene such as Bocafloja (Mexico), Yallzee (Puerto Rico), Arianna Puello (Spain, Dom Rep), and Cookee (Puerto Rico). Hst has represented his country on many events such as the 4th International Alliance of Hip Hop in Caracas, Venezuela in 2008, one of the most important events of Latin American Hip Hop. At the present, Hst is currently living in New York City. He and Willproducer are recording their album called "Efecto Cibaeño" with huge expectations to be released this summer. You can read more about Hst in his Myspace, www.myspace.com/hst31
Circa '95 is much more than your average Latino Hip-Hop group. The trendsetting duo, has taken over NYC with various projects. PattyDukes (Dominican) and RephStar (Puerto Rican) are performers, emcees, writers and tech savy-multimedia artists. Performing throughout the country, working with youth based organizations that promote Hip-Hop as a tool for social change. Hosts of the #1 Internet radio show on UrbanLatinoRadio.Com, Circa '95 is live every Sunday from 2-5pm. Patty and Reph were recently featured on HBO Latino in shows like RoadTrip and Habla. On stage, PattyDukes and Rephstar will be acting in Caridad "La Bruja" De La Luz's Boogie Rican Blvd this Summer at the Puerto Rican Traveling Theater. PattyDukes and Rephstar are the recipients of the 2007 BRIO Award and the 2008 UAI (Urban Artist Initiative) grant. They are the 2007 national Cuervoton winners, walking away with a demo deal from Roc La Familia. PattyDukes and Rephstar are currently in the studio working on their first album.www.circa95.com www.myspace.com/circa95music
Positive energy, perseverance, and determination: these are only a few of the outstanding monikers with which peers have baptized vibrant Latino artist, Alvare. Alvare's rich Cuban heritage strongly influenced Alvare to take his story and relay it to the masses via classic Afro-Cuban sounds such as Fania, Buena Vista Social Club, Beny More and Celia Cruz while fusing them with his unique, rhythmic and melodic Hip Hop flow, forming an inimitable sound so addictive that audiences from all ages become instant fans. As a culturally eclectic artist, Alvare embraces Puerto Rican, Dominican, Colombian, and Mexican influences such as bomba y plena, merengue, bachata, bayonato, and banda all of which likewise play a pivotal role in the one-of-a kind Alvare sound. Highly accredited performers such as La Bruja, T-Weaponz, Hurricane G, Rebel Diaz, Eternia, Patty Dukes, Daso El Musico, Temperamento, and Thirstin Howl III are among the diverse artists who have collaborated with Alvare to relay his positive tale to the streets. www.alvare.biz
Raw, dynamic, and determined are just a few words to describe Eye-N-See. Eye-N-See came together in Corona, Queens, as young men who bonded through music and hardship. Eye Rule and C-True met in 1993, and through their passion for Rap music they became the group known as Eye-N-See. Eye Rule also known as Logik, knows better than anyone that life is not a walk in the park. Having dealt with a drug problem for over a decade, Eye Rule used music to defeat his addiction to cocaine. At the lowest point in his life, Eye Rule wrote a song called "Time" that described who he wanted to be, and now he can honestly say he is a lot closer to becoming that person. Through his raw and dynamic lyrics he shares his life, triumphs and failures, and has become a rapper that mirrors the art of life and struggle through hip hop. C-True is considered to be a rappers rapper. C-True is not only a skilled writer but also is known to carry out a unique style of Hip Hop. Growing up he used his music to escape his situation with domestic violence. Through all that noise C-True found himself as a writer and he wrote a song called "Words" which he considers to this day highlights some of his best work. "Words" is a song that showcases his talent, vision and what he is destined for. Currently Eye-N-See is signed to Square Deal Productions, a production company that was built by childhood friends, dedicated to producing quality music and developing tomorrow's Hip Hop. Sergio Parra, CEO of Square Deal Productions, is excited to release a young talented group who he believes is a breath of fresh air to the game.
Hasan Salaam is a Hip Hop artist from New Jersey. Salaam received acclaim for his debut album Paradise Lost, which covers an array of personal, political, and historical subjects, and it earned him two awards at the 3rd Underground Music Awards in August of 2005. Shortly after the release of Paradise Lost he released a mixtape entitled Tales of the Lost Tribe: Hidden Jewels. Salaam has been blessed with many opportunities to perform his music at venues across the country and beyond, and was a part of Redman's Red Gone Wild Tour in 2007. Aside from his work as an emcee, Salaam has taught classes at P.S. 41 in Jersey City, New Jersey, and has performed and worked with rights organizers at Eastern New York Correctional Facility, in Napanoch. Hasan Salaam will be traveling to London and Germany to perform in 2009. http://www.hasansalaammusic.com/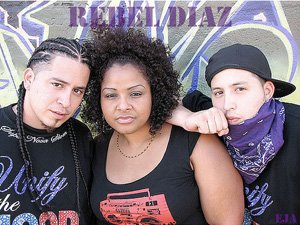 Rebel Diaz is a Hip Hop group from Chicago, based in the South Bronx, making music for freedom fighters and revolutionaries. Fronted by the Afro-Boricua songstress/mc Lah Tere and Chilean brothers RodStarz and G1, Rebel Diaz reports from the trenches on life, love, the streets, and the struggle. From welcoming Hugo Chavez to the Bronx, to opening for Rage Against The Machine at a political rally for migrant farm workers, they represent the pulse of the active left. They have also shared the stage with the likes of Common, Public Enemy, dead prez, and Mos Def. Recently chosen by URB magazine as one of "The Next 100 groups of 2008," Rebel Diaz looks to take their bilingual flow and global view on Hip Hop into the 21st century and beyond.
http://www.rebeldiaz.com/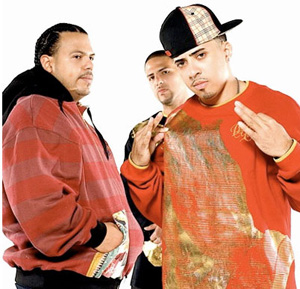 T-Weaponz is an explosive lyrical trifecta hailing from the streets of Brooklyn's East New York, composed of brothers IzReal and Arkitek and their neighborhood friend Psalmz. After meeting at an impromptu neighborhood 'CIPHER' (term used to describe a circle of emcees rhyming together) and later discovering how many similarities they shared both in terms of their life experiences and their ideals they soon came together under the moniker Tomorrow's Weaponz, which they later shortened to T-Weaponz, representative of how the trio lives for today and hopes for a tomorrow using their own weapons-thoughts and wits. http://www.myspace.com/tweaponz
There is nothing you can say about Nile Rodgers that hasn't already been heard by billions of people, via millions of radio airwaves, in thousands of cities, in hundreds of countries. The career of Nile Rodgers is one of the most enduring and prolific in music. Nile's signature is scrawled across an amazing array of music—from Madonna to Diana Ross, from David Bowie to Eric Clapton. Nile partnered with Bernard Edwards and introduced the world to CHIC in 1977. "Dance, Dance, Dance", the first single off CHIC's eponymous début, hit the Top 10 and they never looked back. 1978 yielded their second hit, "Everybody Dance", while a third single, "Le Freak", hit No. 1 and became Warner Brothers' biggest selling single of all time. The dynamic duo of Edwards and Rodgers finished off the year by releasing their second album, C'est Chic, which went directly into the Top 5. The year 1979 brought the singles "I Want Your Love", "Good Times", and a third CHIC album, Risqué. While they still kept their day job as the front men of CHIC, Nile and Bernard were not content to simply propel their own band to the top. They produced and composed the album We Are Family by Sister Sledge and did the same on Diana, the best selling album by Diana Ross, featuring her smash singles, "Upside Down" and "I'm Coming Out". And if imitation is the sincerest form of flattery, then surely the Sugarhill Gang's appropriation of the bass line from "Good Times" as the bass line for 1980s seminal rap song "Rapper's Delight" is an outstanding tribute. Nile has written, produced, or performed on songs, which have sold over a hundred million records. In fall of 2005, CHIC were inducted as artists into the Dance Music Hall of Fame, as was their classic dance song "Good Times". Nile and Bernard were also singled out and inducted for their groundbreaking work as producers. The National Association of Recording Arts and Sciences (NARAS), of which Nile has served as both Governor and Trustee, has given him both its Lifetime Achievement Award, and the New York Chapter's Heroes Award, the highest honor bestowed, honoring individuals whose creative talents and accomplishments cross all musical boundaries.
In the summer of 1980, Charlie Ahearn began working with Fred Brathwaite and Lee Quinones on the hip hop classic Wild Style, which he wrote and directed and was first screened in 1982. After producing a number of videos on artists, Ahearn wrote and directed his next feature film, Fear of Fiction, in 2000. With Jim Fricke, Ahearn coauthored Yes Yes Y'all: The Experience Music Project Oral History of Hip-Hop's First Decade (Da Capo Press, 2002), which featured more than one hundred photographs, many by Ahearn. The author of Wild Style The Sampler (Miss Rosen Editions/powerHouse Books, 2007), Ahearn lives and works in New York.
Jamel Shabazz's work has appeared in publications such as The Source, Vibe, Trace, British Elle, Jalouse, Dune, GQ, and French Vogue. In addition, his photographs have been exhibited in Hip-Hop Nation: Roots, Rhymes, and Rage at the Brooklyn Museum of Art, at Xhibiton Transition in Chicago, and at Trace Magazine: True Signs in Paris. Shabazz is a Teaching Artist with Rush Arts Foundation, where he mentors at-risk youth. He is a philanthropist who supports organizations like The Harlem Art Project, The Queens Council on the Arts, and Project Hope. He has published three books with powerHouse: Back in the Days, A Time Before Crack, Seconds of My Life, and Last Sunday in June (2001, 2005, 2007, and 2003). Shabazz was born in Red Hook, Brooklyn, in 1960.