FOR IMMEDIATE RELEASE:

powerHouse Books is pleased to announce the March 2012 release of
DO NOT DISTURB
By Adam Raphael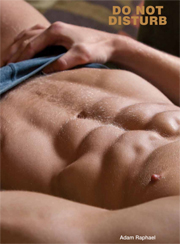 Adam Raphael's Do Not Disturb is a sensual series of diverse male models lounging, bathing, and dining amid the lavish interiors and luxurious finishes of the finest hotels in America. In the tradition of Raphael's highly acclaimed Room Service, every page of this collection of all new work smolders with the heat of closed-door encounters.
The young men of Do Not Disturb are models of the highest caliber whose perfect physiques are revealed in Raphael's photographs. Because the models are photographed individually, the viewer is invited to get to know each model intimately.
All of the models, who are both clothed and unclothed, are photographed in repose—playful, and carefree in the privacy of their hotel suites. Escape into a world of extravagant, immaculately constructed fantasy, with Do Not Disturb.
For a preview of the book please visit: http://www.powerHouseBooks.com/donotdisturbpreview.pdf

Adam Raphael has been making subtle, erotic photographs of stunning young men for more than twelve years. In addition to Do Not Disturb, he has published five other books: Book One (HM, 1999), Friends (HM, 2001), Friends & Brothers (HM, 2004), Room Service (powerHouse Books, 2007), and Barely Working (powerHouse Books, 2008). His work was featured in Reed Massengill's Self-Exposure (Universe, 2005) and Night Visions (Bruno Gmünder, 2008), as well as in numerous magazines. His photographs have been exhibited at Bonni Benrubi Gallery, New York and are included in the permanent collections of the Center for Creative Photography, Tucson; the Weintraub Collection, Cornell University Library, Ithaca; The Sir Elton John Photography Collection; the Lowe Art Museum, Miami; the Metropolitan Museum of Art, New York; and the Museum of Fine Arts, Houston.
Gay / Photography
Hardcover, 8.75 x 12.75 inches, 240 pages, over 150 full-color photographs
ISBN: 978-1-57687-542-1 $49.95
For a preview of the book please visit: http://www.powerHouseBooks.com/donotdisturbpreview.pdf
High-res scans to your specification are available upon request; scanning from the book or lifting images from the mechanical file are strictly prohibited. Mandatory credit line: From Do Not Disturb by Adam Raphael, published by powerHouse Books.
For more information, please contact Nina Ventura, Publicist
powerHouse Books, 37 Main Street, Brooklyn, NY 11201
Tel: 212-604-9074 x118, Fax: 212-366-5247, email: nina@powerHouseBooks.com

© Copyright 2011 powerHouse Books