FOR IMMEDIATE RELEASE:

powerHouse Books is pleased to announce the October 2011 release of
IDOLS
By Gilles Larrain
Foreword by Ryan McGinley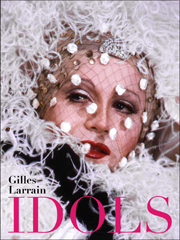 "I moved to New York City because of people like this. I wanted to be around the art crowd and the weirdos and the freaks...and here was a full-on book of them. I was like, where do I sign up? I wanted in."
—Ryan McGinley, from the Foreword
Idols, an authentic compendium of 1970s' New York style and attitude, and a confirmed masterpiece, began with an awestruck Larrain visiting Max's Kansas City in the explosively liberating early years of the gay rights movement. Featuring a generation of New York's most talented, outrageous, glamorous, and mostly gay personalities, the unique photographs in Idols are testament to countless hours his subjects spent applying original makeup and costumes in Gilles' now legendary SoHo studio.
These arresting photographs may delight you. Perhaps they will offend you. They will almost certainly inspire you to ask questions about yourself and your sexuality. They will not leave you cold. The Halloween glamour of the transvestite world is captured in these superb photographs by Gilles Larrain. And, beneath the glitter and the pose, you will see the questing and vulnerable souls of people you might never meet outside these pages. People living out their fantasies gallantly, brilliantly, and desperately—posing the disturbing challenge, "Who do you think YOU are?"
For a preview of the book please visit: http://www.powerHouseBooks.com/idols.pdf
Born in Da Lat, Vietnam in 1938, Gilles Larrain began an atypical life that would see him living in Vietnam, Chile, Argentina, Canada, France, and America, all before the age of 16. He would have to learn many languages and integrate each new world, so it is not surprising that expression, communication, and curiosity became the framework for Larrain's life pursuit, the making of art. From architecture, to painting, sculpture, creating happenings in New York City's fabulous 60s, and photography, Gilles Larrain learned the languages of his craft (in part by attending l'École Nationale Supérieure des Beaux-Arts, Paris and MIT) as he had those of his ever-changing environments growing up.
Ryan McGinley is a New York based photographer raised in New Jersey. After moving to New York in 1998, he began extensively photographing his downtown environs. He received a BFA in graphic design from Parsons School of Design in 2000. In 2003, at the age of 25, McGinley was the youngest artist to have a solo show at the Whitney Museum of American Art. His work has appeared in galleries and museums worldwide, on the covers of magazines and albums, and has been collected in five monographs, most recently in Life Adjustment Center (Dashwood, 2010).
Drag / Fashion / 70s NYC
Hardcover, 8.875 x 12 inches, 104 pages, 90 full-color photographs
ISBN: 978-1-57687-585-8 $35.00
For a preview of the book please visit: http://www.powerHouseBooks.com/idols.pdf
High-res scans to your specification are available upon request; scanning from the book or lifting images from the mechanical file are strictly prohibited. Mandatory credit line: From Idols by Gilles Larrain, published by powerHouse Books.
For more information, please contact Nina Ventura, Publicity Associate
powerHouse Books, 37 Main Street, Brooklyn, NY 11201
Tel: 212-604-9074 x118, Fax: 212-366-5247, email: nina@powerHouseBooks.com

© Copyright 2011 powerHouse Books