FOR IMMEDIATE RELEASE:

powerHouse Books is pleased to announce the November 2011 release of
SCANWICHES
By Jon Chonko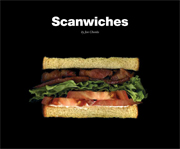 A fresh way of looking at the world's most versatile food, Scanwiches is a declaration of love for that ubiquitous meal between two-slices of bread: The Sandwich.

As simple as they are, sandwiches seem to inspire unusual devotion and bitter argument. Debates have lasted decades over the best way to prepare a club, what a true Philly cheesesteak really is, or who deserves credit for inventing the hamburger. But why shouldn't people be passionate about sandwiches? They're a food that's threaded its way into the lives and cuisine of virtually every nation and culture where bread enters the daily diet. From Europe to South America, India to Vietnam, the hamburger and BLT to the wada pav and banh mi, sandwiches are often representative of regional and national identity—the food of the everyman. They reflect the history of the modern age, the story of the working class, and the evolution of mass-produced eats. From the invention of sliced bread to the hamburger assembly lines of modern fast food, sandwiches have unceremoniously taken us into the 21st century in the shadows of more brilliant symbols.

Scanwiches takes the sandwich and spreads it out for all to see. There's nothing quaint or humble about its presentation. From full-frontal, cross sections of monsters like the Dagwood and club, to minute, geometric tea sandwiches whose construction looks more like minimalist art than culinary creation, Scanwiches presents unabashed food porn that satiates even the most severe sandwich fetish. A supernova of swirling bread, cheese, meat, and lettuce, suspended in a black, vacuous space, and reproduced at actual size, each sandwich lays imposing, exposed, and tantalizing. Complimented by text revealing the origins and development of each sandwich throughout history, you'll learn to love and lust after these lowbrow delicacies in a whole new way.

For a preview of the book please visit: http://www.powerHouseBooks.com/scanwiches.pdf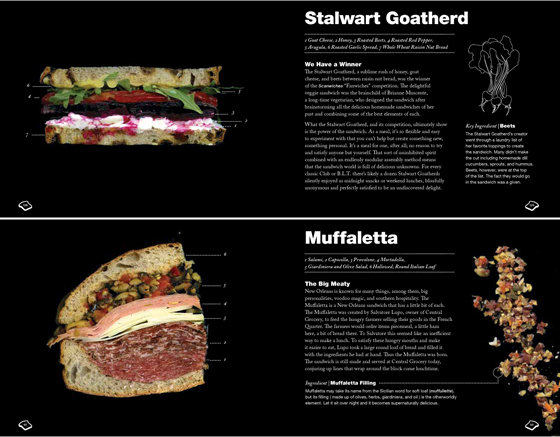 Jon Chonko is a graphic designer, photographer, writer, and unashamed foodie. The direct result of a good first date between his parents at a sandwich shop many years ago, Chonko has spent the last two years scouring New York's delis, cafes, and markets for the city's most eye-catching sandwiches. In the process Chonko has become an expert on all-things-between-bread and a (very) minor Internet celebrity thanks to his blog scanwiches.com. His unique take on sandwiches has been featured in many publications, including Wired, The New York Times, Print, and The Washington Post as well as in person at ROLFcon 2009 at MIT. Besides sandwiches, Chonko is an avid cyclist and kite enthusiast. He lives with his girlfriend and their cat in Brooklyn, New York.
Hardcover, 7.75 x 6.5 inches, 152 pages, over 125 full-color photographs
ISBN: 978-1-57867-589-6 $19.95
For a preview of the book please visit: http://www.powerHouseBooks.com/scanwiches.pdf
High-res scans to your specification are available upon request; scanning from the book or lifting images from the mechanical file are strictly prohibited. Mandatory credit line: From Scanwiches by Jon Chonko, published by powerHouse Books.
For more information, please contact Nina Ventura, Publicity Associate
powerHouse Books, 37 Main Street, Brooklyn, NY 11201
Tel: 212-604-9074 x118, Fax: 212-366-5247, email: nina@powerHouseBooks.com

© Copyright 2011 powerHouse Books