FOR IMMEDIATE RELEASE:

powerHouse Books is pleased to announce the November 2011 release of
CRUISING
By Chad States
With text by Gordon Brent Ingram and Alec Soth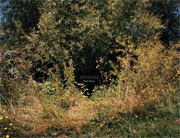 "Cruising" has always been a part of gay culture; the word itself is a code, innocuous to outsiders, but representing an incognito hunt for sexual partners to those in the know. Over the years, men with particular desires found spaces—certain parks, public restrooms, and roadside wooded groves—out of sight and yet in plain view, where they could meet, and with the use of silent signals and cues, pair off for intimate encounters. It is these spots, nationwide, and the men making use of them, that Chad States photographs in Cruising.
With an oblique focus on hidden clearings, forest-lined parking lots, and the well-trodden paths where these encounters occur, States gradually began to include the men far off in the distance within his lush, dense landscapes. These are the beautiful and surreal spaces where forbidden fantasies come to life. From the Pacific Northwest back east to Pennsylvania and New York, States obscures his subjects in the foliage of the woods and blends the various locations into one sensuous visual representation of this necessary, yet transgressive act. Cruising exposes this time-honored, gay tradition, dragging it out of the woods and into the light of the public eye.
For a preview of the book please visit: http://www.powerHouseBooks.com/cruising.pdf

Chad States earned a BA from Evergreen State College and an MFA from Tyler School of Art. States was an Artist in Residence at Light Work in the summer of 2009 and received the Emerging Artist Fellowship for the Delaware Division of the arts in 2008. His work has been exhibited at venues nationwide including Hous Projects, New York; Greg Kucera Gallery, Seattle; and FLUXspace, Philadelphia, among others. His works are part of the permanent collections of Light Work in Syracuse, New York well as the Jule Collins Smith Museum of Fine Art at Auburn University in Auburn, Alabama. States currently lives and works in Philadelphia, Pennsylvania.
Gordon Brent Ingram, Ph.D. is a scholar and practitioner of environmental planning and design. Much of his work has involved either conservation initiatives by indigenous and other tribal communities or sexual minorities increasingly engaged with decision-making around public space. His 1989 Ph.D. in Environmental Planning was awarded in the College of Environmental Design of the University of California, Berkeley and he has taught and held appointments at Berkeley, Santa Cruz and The University of British Columbia, among other institutions. He has written for numerous publications and was the editor of Queers in Space: Communities | Public Places | Sites of Resistance (Bay Press, 1997).
Alec Soth is a photographer whose work has been featured in numerous solo and group exhibitions, including the 2004 Whitney and São Paulo biennials. In 2010, the Walker Art Center produced a large survey exhibition of Soth's work entitled From Here to There. Alec Soth's first monograph, Sleeping by the Mississippi, was published by Steidl in 2004. Since then Soth has produced many books, most recently Broken Manual (Steidl, 2010). In 2008, Soth started his own publishing company, Little Brown Mushroom.
Gay / Nature / Photography
Hardcover, 12.25 x 9.75 inches, 100 pages, 80 full-color photographs
ISBN: 978-1-57687-583-4, $40.00
For a preview of the book please visit: http://www.powerHouseBooks.com/cruising.pdf
High-res scans to your specification are available upon request; scanning from the book or lifting images from the mechanical file are strictly prohibited. Mandatory credit line: From Cruising by Chad States, published by powerHouse Books.
For more information, please contact Nina Ventura, Publicity Associate
powerHouse Books, 37 Main Street, Brooklyn, NY 11201
Tel: 212-604-9074 x118, Fax: 212-366-5247, email: nina@powerHouseBooks.com

© Copyright 2011 powerHouse Books