FOR IMMEDIATE RELEASE:

powerHouse Books is pleased to announce the December 2011 release of
NEW YORK NEW YORK
Photographs by Harry Benson
Text by Hilary Geary Ross
Introduction by Jay McInerney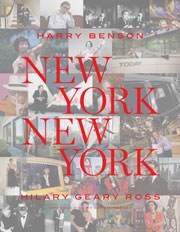 New York New York combines the talents of renowned photographer Harry Benson and society columnist Hilary Geary Ross to create a stunning portrait of New York's best-known citizens. From captains of industry, politicians, movie stars, dancers, artists, and best-selling authors to celebrated athletes and society doyennes, New York New York captures the glamour of Manhattan from the early 60s to today in hundreds of black-and-white and color photographs complemented by revealing captions. Subjects include Diane Sawyer, Halston, Truman Capote, Robert Redford, Neil Simon, Tom Wolfe, Norman Mailer, Paloma Picasso, Spike Lee, Wendi Murdoch, Julian Schnabel, Diana Vreeland, Alex Rodriguez, Malcolm Forbes, Al Pacino, Lauren Hutton, Lena Horne, Andy Warhol, Yogi Bera, Jackie Kennedy, Daryl Hannah, Mario Cuomo, Donald Trump, Brooke Astor, Yoko Ono, Woody Allen, and Michael Kors, among many, many others.
For a preview of the book please visit: http://www.powerHouseBooks.com/newyorknewyorkpreview.pdf

From left to right: Jacqueline Kennedy, 1972; George Plimpton, 1986; Melania & Donald Trump, 2010

From left to right: Brooke Astor, 1991; Halston, 1978; Chanel Iman and Michael Kors, 2010
Hilary Geary Ross is the Society Editor for Quest and Q magazines. She has written the monthly "Appearances" column for Quest since 1998, chronicling social activities worldwide. Ross has been part of the NYC, Palm Beach, and Southampton social circuit her entire life and maintains houses in each of those locations. She has been featured in Town and Country, W, Architectural Digest, Avenue Magazine, and House and Garden, among others. She is presently the President of The Blenheim Foundation Board and on the Palm Beach Preservation Board. She is married to Wilbur L. Ross, Jr., and is the mother of two sons and two stepdaughters.
Scottish born photojournalist Harry Benson was the most published photographer in LIFE magazine before it closed and continues to photograph for major magazines worldwide. In 2009, Queen Elizabeth named Benson a Commander of Order of the British Empire (CBE). Benson has had 40 one-man exhibitions of his work in the U.S. and Europe and is the author of 14 books including R.F.K.: A Photographer's Journal (powerHouse Books, 2008), Harry Benson: Photographs (powerHouse Books, 2009), and Bobby Fischer (powerHouse Books, 2011). Benson lives in New York and Florida with his wife, Gigi, who works with him on his exhibitions and books. Their two daughters live and work in Los Angeles.
New York / Society / Celebrity
Hardcover, 11.25 x 14.25 inches, 320 pages, over 250 full-color and black-and-white photographs
ISBN: 978-1-57687-588-9, $85.00
For a preview of the book please visit: http://www.powerHouseBooks.com/newyorknewyorkpreview.pdf
High-res scans to your specification are available upon request; scanning from the book or lifting images from the mechanical file are strictly prohibited. Mandatory credit line: From New York New York by Harry Benson, text by Hilary Geary Ross, published by powerHouse Books.
For more information, please contact Nina Ventura, Publicity Associate
powerHouse Books, 37 Main Street, Brooklyn, NY 11201
Tel: 212-604-9074 x118, Fax: 212-366-5247, email: nina@powerHouseBooks.com

© Copyright 2011 powerHouse Books