FOR IMMEDIATE RELEASE:

powerHouse Books is pleased to announce the April 2012 release of
SUSIE SAYS
By Gina Garan
Text by Justin Vivian Bond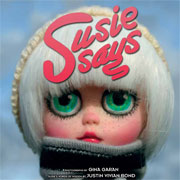 Consummate doll collector and wildly successful author of This Is Blythe (Chronicle Books, 2000) Gina Garan rediscovers the chic and unsettling allure of doe-eyed "Susie Sad Eyes," that triste, young, and neglected 70s fashion doll.
Susie Says features over 60 photographs of Susie on an ubër-fashionable American tour in a range of styles and looks, from cobbled together and handmade, to vintage and found—with over a dozen uniquely customized Susies. Not enough for you doll lovers?! In Susie Says, sad, little Susie discovers her voice and breaks her silence. Each of Gina's photographs are accompanied by Susie's thoughts, the inspiring and hilarious bon mots of International superstar performer, Justin Vivian Bond (of Kiki and Herb).
"Gina Garan is a new master in a world where dolls rule. Her hypnotic photography, exotic locations, and styling seduce the eyes to orgasmic highs."
—David LaChapelle
For a preview of the book please visit: http://www.powerHouseBooks.com/susiesayspreview.pdf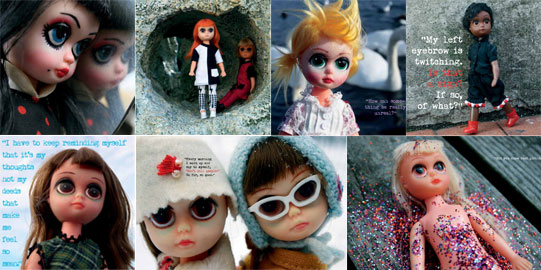 In 2000, Gina Garan authored This Is Blythe, the seminal book of and about the legendary fashion doll Blythe. Since then it has sold over 50,000 copies, spawning a worldwide renaissance for the doll and introducing Garan to the world. Garan has since published numerous other books of her work, including Blythe Style (Chronicle, 2005), Blythe Moment (2006) and Blythe Rhapsody (2007). Her photos have been displayed in solo shows in Tokyo, London, Melbourne, Seoul, Los Angeles, New York, and Santa Fe, and in numerous group shows. Ms. Garan has also collaborated on the design and production of several new dolls, including ginagirls, sold mainly in Japan, and Bendel's Girls, available exclusively at New York department store Henri Bendel. In 2012 she will introduce her first Susie Says doll, a collaboration with Hong Kong based ThreeA Toys. Ms. Garan lives in New York City.
A singer, songwriter, Tony-nominated performer, and painter, Justin Vivian Bond has been writing, starring in, and producing theatrical, cabaret, and art events internationally for 20 years. Bond's first book, Tango: My Childhood Backwards and in High Heels was published by The Feminist Press in 2011. Follow Bond's blog "Justin Vivian Bond is Living" at justinbond.com.
Doll Collecting / Humor / Fashion
Hardcover, 7 x 7 inches, 128 pages, 60 full-color photographs
ISBN: 978-1-57687-599-5, $19.95
For a preview of the book please visit: http://www.powerHouseBooks.com/susiesayspreview.pdf
High-res scans to your specification are available upon request; scanning from the book or lifting images from the mechanical file are strictly prohibited. Mandatory credit line: From Susie Says by Gina Garan, published by powerHouse Books.
For more information, please contact Nina Ventura, Publicist
powerHouse Books, 37 Main Street, Brooklyn, NY 11201
Tel: 212-604-9074 x118, Fax: 212-366-5247, email: nina@powerHouseBooks.com

© Copyright 2012 powerHouse Books