FOR IMMEDIATE RELEASE:

powerHouse Books is pleased to announce the April 2012 release of
GOLDEN AGE WESTERN COMICS
Edited by Steven Brower
Foreword by Christopher Irving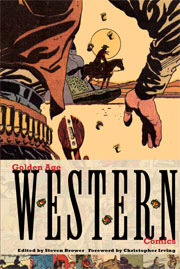 The Wild West has been romanticized in American culture ever since the dime novels capturing the exploits of Jesse James were produced in the years directly following the Civil War, and the Western genre continues to enthrall audiences to this day. The stories of frontiersmen, outlaws, cowboys, Indians, prospectors, and marksmen surviving the harshest of environments through wit, skill, and determination, or meeting their end by bullet, noose, or exposure speak to what it means to be American and play an essential part in how we define ourselves as a nation. These mythic stories have been captured and created in almost every popular mass medium of the past century and beyond from tabloids to novels, radio plays, television shows, and movies.
Now, powerHouse Books is pleased to present a collection of these uniquely American stories as told through a uniquely American medium...the comic book! Golden Age Western Comics lovingly reproduces in full-color, restored, complete scans of 20 of the best Western stories created between the years 1948 and 1956. These lavishly illustrated stories of guts and glory, violence and valor, intrigue, romance, and betrayal, on the range and in lawless frontier towns, were created by some of the best artists and writers of the era. The action flies off the page in stories such as "Young Falcon and the Swindlers," and "Breakout in Rondo Prison," from the greatest earliest publishing houses, including: Fawcett, Charlton, Avon, Youthful, and more. Golden Age Western Comics is a collection unlike any other and is sure to delight fans of rootin-tootin, gun-toting, adventure of all ages!
Featuring Western Legends of Life, Literature, and Filmdom such as: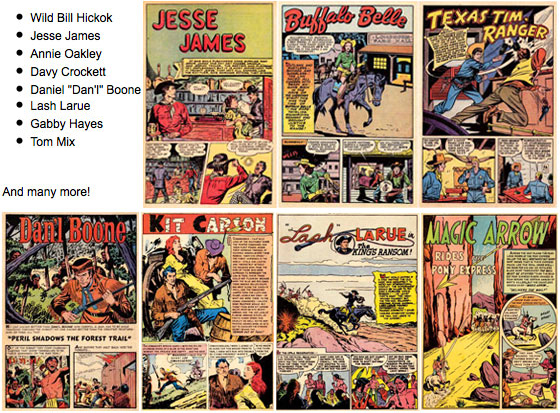 For a preview of the book please visit: http://www.powerHouseBooks.com/westerncomicspreview.pdf
Steven Brower is an award winning graphic designer and writer. During his tenure as creative director, Print magazine garnered two National Magazine Awards for General Excellence. He has been an art director at The New York Times and The Nation, and his work is in the permanent collection of the Smithsonian Institute. He has designed and co-authored many books including Woody Guthrie Artworks (Rizzoli, 2005), Satchmo: The Wonderful Art and World of Louis Armstrong (Abrams, 2009), and, most recently, From Shadow to Light: The Life and Art of Mort Meskin (Fantagraphics, 2010), and Breathless Homicidal Slime Mutants: The Art of the Paperback (Universe, 2010). He is on the faculty of Marywood University and SVA.
Christopher Irving is a pop culture historian with a concentration in the American comic book. A veteran of comics history and journalism magazines like Comics Buyers Guide and multiple Eisner Award-winning Comic Book Artist (where he served as Associate Editor), Irving combines new journalism with comics history to create personality essays on comic book creators. Leaping Tall Buildings, Irving's fifth book on comic books, will be published by powerHouse Books in spring 2012. Irving currently edits digital comics magazine The Drawn Word.
Comics / Old West / Giddyup!
Hardcover, 7 x 10.5 inches, 144 pages, full-color comics on every page!
ISBN: 978-1-57687-594-0, $24.95
For a preview of the book please visit: http://www.powerHouseBooks.com/westerncomicspreview.pdf
High-res scans to your specification are available upon request; scanning from the book or lifting images from the mechanical file are strictly prohibited. Mandatory credit line: From Golden Age Western Comics, edited by Steven Brower, foreword by Christopher Irving, published by powerHouse Books.
For more information, please contact Nina Ventura, Publicist
powerHouse Books, 37 Main Street, Brooklyn, NY 11201
Tel: 212-604-9074 x118, Fax: 212-366-5247, email: nina@powerHouseBooks.com

© Copyright 2012 powerHouse Books