FOR IMMEDIATE RELEASE:

powerHouse Books is pleased to announce the June 2012 release of
ADVANCED STYLE
By Ari Seth Cohen
Introduction by Maira Kalman
Interview by Dita Von Teese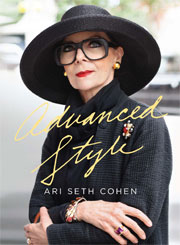 Advanced Style is Ari Seth Cohen's blog-based ode to the confidence, beauty, and fashion that can only be achieved through the experience of a life lived glamorously. It is a collection of street fashion unlike any seen before—focused on the over-60 set in the world's most stylish locales. The (mostly) ladies of Advanced Style are enjoying their later years with grace and panache, marching to the beat of their own drummer. These timeless images and words of wisdom provide fashion inspiration for all ages and prove that age is nothing but a state of mind.
Ari Seth Cohen started his blog inspired by his own grandmother's unique personal style and his lifelong interest in the put-together fashion of vibrant seniors. Each of his subjects sparkles like a diamond after long years spent refining and perfecting their individual look and approach to life. The Advanced Style book will showcase, in luscious full-color, the best of the blog and act as a true guidebook with all-new material, interviews, and advice from a cadre of his most chic subjects, along with a large selection of never-before-seen photography—fresh off of sidewalk catwalks around the world!
For a preview of the book please visit: http://www.powerhousebooks.com/preview/advancedstylepreview.pdf

Ari Seth Cohen is a freelance writer, photographer, and blogger based in New York City. He is the creator of Advanced Style, a blog devoted "to capturing the sartorial savvy of the senior set." Advanced Style has appeared in The New York Times, The New Yorker, Los Angeles Times, The Huffington Post, Vice Magazine, New York Magazine, The Fader, Vogue Japan, Vogue Italia, Elle, Elle UK, The UK Telegraph, Forbes.com, and internationally broadcast news and fashion programs.
Maira Kalman is an author and illustrator of over a dozen children's books. Additionally, her two-year-long, illustrated columns for The New York Times online have been published as the books The Principles of Uncertainty (Penguin, 2007), and And the Pursuit of Happiness (Penguin, 2010). In 2011 a retrospective of her work was mounted at the Jewish Museum in NYC. She is represented by the Julie Saul Gallery, and lives and works in New York City.
Dita Von Teese is a world famous burlesque artist and lingerie model. Best known for her Cocktail Glass show in which she performs an old fashioned striptease that culminates with her bathing herself in an oversized champagne or martini glass, this "Burlesque Superheroine" (Vanity Fair) is credited by many for sparking a revival of traditional burlesque, and has appeared in a number of films, music videos, and television shows. Von Teese has released DVDs of her performances and is the author of Dita: Stripteese (It Books, 2009).
Fashion / Design / The Art of Aging
Hardcover, 7.25 x 9.75 inches, 240 pages, over 200 full-color photographs
ISBN: 978-1-57687-592-6, $35.00
For a preview of the book please visit: http://www.powerhousebooks.com/preview/advancedstylepreview.pdf
High-res scans to your specification are available upon request; scanning from the book or lifting images from the mechanical file are strictly prohibited. Mandatory credit line: From Advanced Style by Ari Seth Cohen, published by powerHouse Books.
For more information, please contact Nina Ventura, Publicist
powerHouse Books, 37 Main Street, Brooklyn, NY 11201
Tel: 212-604-9074 x118, Fax: 212-366-5247, email: nina@powerHouseBooks.com

© Copyright 2012 powerHouse Books