FOR IMMEDIATE RELEASE:

powerHouse Books is pleased to announce the July 2012 release of

MY NAME IS NEW YORK:
Ramblin' Around Woody Guthrie's Town
by Nora Guthrie and the Woody Guthrie Archives
My name is New York, I'm a brick on a brick
I'm a hundred folks running, and ten dying sick
I'm a saint, I'm a sinner, a whore and her pimp
Your ocean's the mirror I look in to primp.
—"My Name Is New York," Woody Guthrie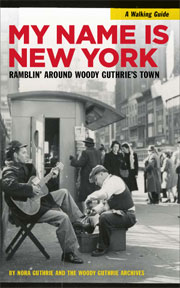 Dust bowl troubadour Woody Guthrie first arrived in New York City on February 16, 1940. Although he continued to ramble, for 27 years— from 1940 until his death in 1967—New York was the city he called home and always returned to.
For the first time, this wonderful New York story comes to life with historical photos, documents, and previously unpublished lyrics from the Woody Guthrie Archives. Highlighting 19 significant locations, this little guide provides an expansive yet intimate portrait of Woody Guthrie's NYC life. We invite you to walk the streets, ride the buses and subways, or sit down and relax on some of the stoops, park benches, or beaches where Woody Guthrie did—always strumming away on his guitar, always working on a new song.
Many of Woody's most popular songs were written in apartments, lofts, and other locations around "New York Town." That song, along with "Jesus Christ," "Vigilante Man," "Hard Travelin'," "Tom Joad," "Reuben James," "All You Fascists Bound to Lose," and "1913 Massacre," are among the more than 600 he composed in the Big Apple. Most surprisingly, his iconic "This Land Is Your Land," was written at a small rooming house on 43rd Street and Sixth Avenue, on February 23, 1940 within a few days of his arrival. With new friends Pete Seeger, Lead Belly, Sonny Terry, and Brownie McGhee and the Almanac Singers he was at the center of a new movement—introducing and popularizing rural, roots, topical, and protest music to modern, urban audiences. For more information visit http://www.MyNameIsNY.com/
For a preview of the book please visit: http://www.powerhousebooks.com/preview/mynameisnypreview.pdf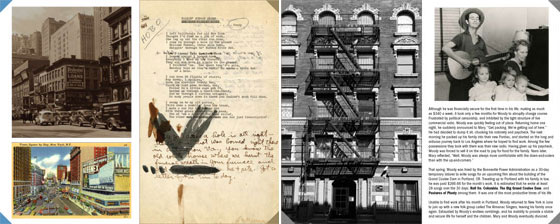 Nora Guthrie, Woody Guthrie's daughter, is the Director of the Guthrie Archives, President of Woody Guthrie Foundation and Woody Guthrie Publications, Inc. She develops projects that bring Woody Guthrie's vast cultural and, often unknown, creative legacy to life. Her ground-breaking pairing of Woody's unpublished lyrics with music by contemporary artists has expanded Woody's iconic image, forever changing how we know him. Nora's collaborative projects have resulted in the release of over 150 new lyrics and artwork publications in only the last 20 years, pioneering the revitalization of Woody Guthrie's expansive legacy.
In 1996, Nora Guthrie co-produced the first Rock-n-Roll Hall of Fame Guthrie tribute concert with performers Pete Seeger, Tim Robbins, Billy Bragg, Country Joe McDonald, Indigo Girls, Ani DiFranco, and Bruce Springsteen among others, and co-curated the first major exhibition on Guthrie for the Smithsonian Institution Traveling Exhibition Series which toured at major museums throughout the country for three years. Nora was executive producer of the Billy Bragg/Wilco Grammy-nominated Mermaid Avenue multi-disc sessions, which premiered the collaboration of Woody's unpublished lyrics with contemporary artists.
Since 1998, Nora has released many albums that use Woody's lyrics; Daddy O Daddy, Ticky Tock, Happy Joyous Hanuka, Grammy winner Wonder Wheel, Grammy winner The Live Wire, The Works, Note of Hope, and most recently, New Multitudes. She was a co-editor to the book Woody Guthrie Artworks (Rizzoli, 2005) and contributor to Kathy Jakobsen's This Land Is Your Land (Little, Brown & Co, 1998) and New Baby Train (2004).
In 2012, Nora is co-producing with the GRAMMY Museum a year-long tribute to her father, in his centennial year. Celebration events include educational conferences, a touring exhibit and star-studded concerts that follow Woody's road from Oklahoma to New York and will culminate at the Kennedy Center in Washington, DC. For more information visit http://www.woody100.com/
NYC History / Folk Music / Fascist Killing Books
Paperback with flaps, 5 x 8 inches, 100 pages, over 100 four-color images, artifacts,
drawings, and other Woody ephemera
ISBN: 978-1-57687-595-7, $12.95
For a preview of the book please visit: http://www.powerhousebooks.com/preview/mynameisnypreview.pdf
High-res scans to your specification are available upon request; scanning from the book or lifting images from the mechanical file are strictly prohibited. Mandatory credit line: From My Name Is New York: Ramblin' Around Woody Guthrie's Town by Nora Guthrie and the Woody Guthrie Archives, published by powerHouse Books.
For more information, please contact Nina Ventura, Publicist
powerHouse Books, 37 Main Street, Brooklyn, NY 11201
Tel: 212-604-9074 x118, Fax: 212-366-5247, email: nina@powerHouseBooks.com

© Copyright 2012 powerHouse Books