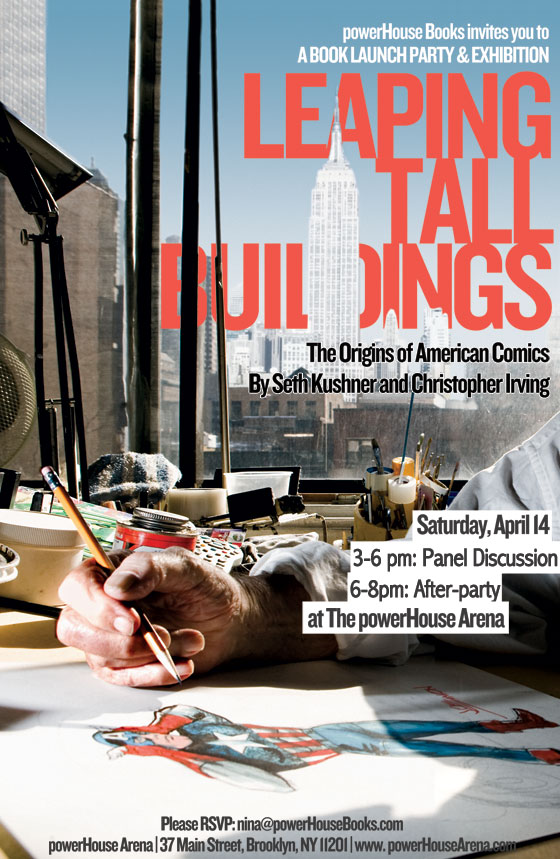 To celebrate the release of Leaping Tall Buildings, powerHouse Books and the authors will host a launch event April 14 at The powerHouse Arena in DUMBO Brooklyn at 37 Main Street.
LEAPING TALL BUILDINGS:
THE ORIGINS OF AMERICAN COMICS
Photographs by Seth Kushner
Text and interviews by Christopher Irving
The book launch festivities, free and open to the public, start at 3:00 PM with a series of panels and an exhibition of Seth Kushner's inimitable photographic portraits of comic book luminaries.
PANEL SCHEDULE:
3:00-3:45 PM: Autobiography in Comics
Panel guests will include comics legend Irwin Hasen (Green Lantern), Bob Fingerman (Minimum Wage), Molly Crabapple (Dr. Sketchy's), and Raina Telgemeier (Smile).
4:00-4:45 PM: From Comic Books to Film
Panel guests will include Chris Claremont (X-Men writer), Paul Levitz (former DC Comics President and Legion of Superheroes writer), and writer Denny O'Neil (Batman).
5:00-5:45 PM: Behind the Pictures
Co-authors Christopher Irving and Seth Kushner discuss the trials, tribulations, and adventures had in interviewing and photographing the stars of Leaping Tall Buildings.
The book release will also be celebrated in the form of exclusive, limited edition art prints drawn by Becky Cloonan (DEMO, Conan), Dean Haspiel (HBO's Bored to Death, Billy Dogma), Peter Kuper (Spy vs. Spy, Stop Forgetting To Remember), and Paul Pope (100%, Battling Boy). The limited edition prints will benefit the Comic Book Legal Defense Fund, who will also be present to host cartoonist signings.
From 6:00 to 8:00 PM, powerHouse Books will host an evening reception, with copies of Leaping Tall Buildings on hand for purchase and signing by the authors and featured creators in attendance. Ron Scalzo (Q*Ball, Hooper, Bald Freak Music) will be DJ for the evening.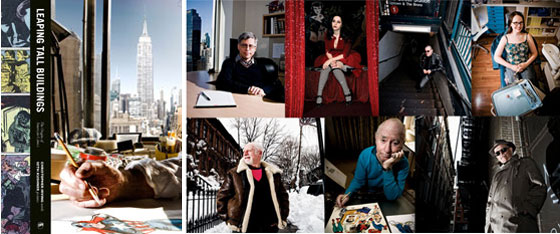 ABOUT THE BOOK: Some are mild mannered geeks, others mad geniuses or street-smart city dwellers driven to action. These are the men and women behind the masks and tights of America's most beloved superheroes. But these aren't the stories of the heroes' hidden alter egos or secret identities...these are the stories of their creators! Leaping Tall Buildings: The Origins of American Comics gives you the truth about the history of the American comic book—straight from the revolutionary artists and writers behind them. Leaping Tall Buildings assembles writer Christopher Irving's interview-based essays and photographer Seth Kushner's portraits of comic book creators into a narrative thread. The pair successfully started the project as the Graphic NYC website, www.nycgraphicnovelists.com, in December 2008.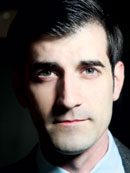 Christopher Irving is a pop culture historian with a concentration in the American comic book. A veteran of comics history and journalism magazines like Comics Buyers Guide and multiple Eisner Award-winning Comic Book Artist (where he served as Associate Editor), Irving combines new journalism with comics history to create personality essays on comic book creators. Leaping Tall Buildings is Irving's fifth book on comic books. Irving currently edits digital comics magazine The Drawn Word. www.thedrawnword.com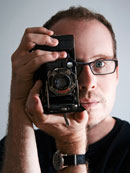 Seth Kushner's portrait photography has appeared in The New York Times Magazine, Time, Newsweek, L'Uomo Vogue, The New Yorker and others. He was chosen by Photo District News magazine as one of their 30 under 30 in 1999 and is a two-time winner of their Photo Annual Competition. Seth's first book, The Brooklynites, (with Anthony LaSala) was published by powerHouse Books in 2007. Currently, Seth is working on CulturePOP Photocomix, and profiling real-life characters on ACT-I-VATE.com and WelcomeToTripCity.com. Seth resides in his hometown of Brooklyn, New York with his wife, son and way too many cameras and comics. www.SethKushner.com
For more information about the book please visit: http://www.powerhousebooks.com/site/?p=11646
RSVP to: nina@powerHouseBooks.com
For press inquiries please contact Nina Ventura, Publicist
powerHouse Books, 37 Main Street, Brooklyn, NY 11201
Tel: 212-604-9074 x118, Fax: 212-366-5247, email: nina@powerHouseBooks.com

© Copyright 2012 powerHouse Books