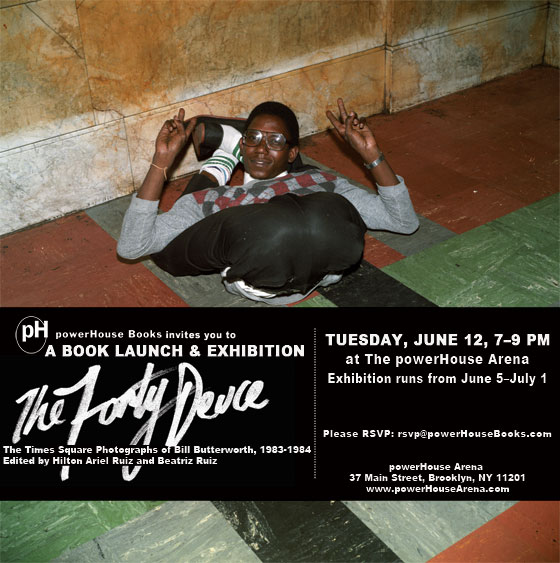 To celebrate the release of The Forty-Deuce, powerHouse Books will host the launch event at
The powerHouse Arena in DUMBO Brooklyn at 37 Main Street.
TUESDAY, JUNE 12, 7–9 pm
EXHIBITION OPENING & LAUNCH PARTY
THE FORTY-DEUCE:
The Times Square Photographs of Bill Butterworth, 1983–1984
powerHouse Books and curators, Hilton Ariel Ruiz and Beatriz Ruiz, are thrilled to announce the exhibition and launch reception for The Forty-Deuce. Prints from the book, as well as never before seen images, will be on display and for sale at the powerHouse Arena through July 1. The event is free and open to the public.
ABOUT THE BOOK:
The Forty-Deuce: The Times Square Photographs of Bill Butterworth, 1983-1984 is a series of photographs capturing a gritty, glamorous, and authentic old-school New York, well before Mickey Mouse took over Times Square and scrubbed it clean. Curators and editors Beatriz and Hilton Ariel Ruiz have collected and preserved the work of local street photographer Bill Butterworth, and have drawn from his work to create a revealing portrait of the Forty-Deuce, inside and out—capturing the unique street life and street style of the era, but also drawing us deeper in, to the peep shows, sex shops, backroom brothels, dimly lit arcades, and low-budget theatres where the action happened. In the tradition of Jamel Shabazz's classic, Back in the Days, The Forty-Deuce showcases the early-80s style of New York's first b-boys, out on the town and dressed to impress, but it adds some sin to the mix, with the Deuce's own slick pimps, strung out hustlers, and the spandex and leather clad prostitutes, strippers, and trannies that worked 42nd Street nightly, and defined it for years.
For more information about the book please visit: http://www.powerhousebooks.com/site/?p=7362
RSVP to: rsvp@powerHouseBooks.com
For press inquiries please contact Nina Ventura, Publicist
powerHouse Books, 37 Main Street, Brooklyn, NY 11201
Tel: 212-604-9074 x118, Fax: 212-366-5247, email: nina@powerHouseBooks.com

© Copyright 2012 powerHouse Books