FOR IMMEDIATE RELEASE:

powerHouse Books is pleased to announce the October 2012 release of
OUT MY WINDOW
Photographs by Gail Albert Halaban
Introduction by Vernon Silver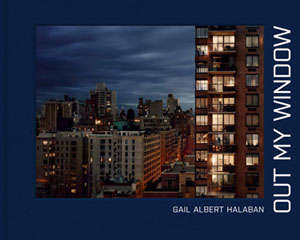 Alfred Hitchcock's Rear Window comes to mind when looking at Gail Albert Halaban's book of photographs of city dwellers peering into their neighbors' windows, Out My Window. The photographs capture the vast city landscape, and within the landscape, floating high above the ground, are portraits of strangers caught in private moments. These beautiful color pictures of voyeuristic architectural landscapes capture both the intimacy and remoteness of life lived in the proximity of so many strangers.
Like so many New Yorkers, Halaban can't help staring into her neighbors' windows, but she's made an art of it. Most of her big color photographs are views across streets, alleyways, or airshafts into apartments. A man plays with his dog; a young couple cuddle with their baby; the solitary stand in Hopperesque isolation. The fact that Halaban has staged these moments doesn't make them any less resonant of the contradictory impulses of metropolitan life: the desire to connect and the need to be left alone. Voyeurs will be frustrated by Halaban's polite scenarios, but she's playing the good neighbor.
—Vince Aletti, The New Yorker
Please click here to view the preview PDF of Out My Window.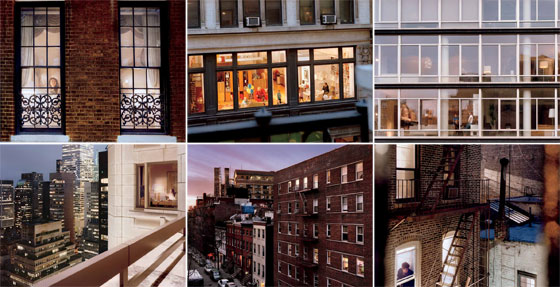 Gail Albert Halaban, is an American fine art photographer. Halaban earned her BA from Brown University and her MFA from the Yale University School of Art. She is noted for her large-scale photographs of women, seen in her exhibitions "About Thirty" and "This Stage of Motherhood" and the urban, voyeuristic landscapes on display in Out My Window. Her work has appeared in The New York Times, New York, magazine, The New Yorker, and Time. Her fine art photography has been internationally exhibited. Gail Albert Halaban is represented by Edwynn Houk Gallery in New York City.
Fine Art Photography / Manhattan
Hardcover, 12.5 x 10 inches, 92 pages, 225 color photographs.
ISBN: 978-1-57687-612-1, $50
Download the Out My Window preview PDF by clicking here.
High-res scans to your specification are available upon request; scanning from the book or lifting images from the mechanical file are strictly prohibited. Mandatory credit line: From Out My Window by Gail Albert Halaban, published by powerHouse Books.
For more information, please contact Nina Ventura, Publicist
powerHouse Books, 37 Main Street, Brooklyn, NY 11201
Tel: 212-604-9074 x118, Fax: 212-366-5247, email: nina@powerHouseBooks.com

© Copyright 2012 powerHouse Books