FOR IMMEDIATE RELEASE:

powerHouse Books is pleased to announce the October 9, 2012 release of

GROW GATHER HUNT COOK
By Rohan Anderson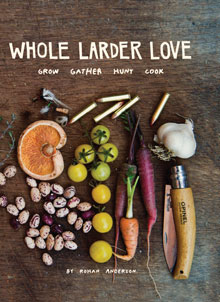 Whole Larder Love author and quintessential DIY-er Rohan Anderson is a family man and a modern-day hunter-gatherer living just outside the historical town of Ballarat, an 1800s gold rush town in Australia. Within this rural landscape Anderson has capitalized on the opportunities for many a culinary adventure. Primarily concerned with how to live off of the land and provide himself and his family with fresh, local food, Anderson has become a passionate hunter, fisher, forager, gardener, pickler, and sometimes barterer. Anderson now wants to share his secrets and experiences in order to help move people away from unhealthy eating habits and towards a more environmentally sustainable food industry.
Food is an integral part of our lives. And in recent years, more and more people have been asking questions about the food they eat: How does that food get to our plates? How was it grown? What chemicals were used? How was the animal treated? What are the impacts on the environment?
In Whole Larder Love, Anderson gives us easy to follow tips and instructions for setting up a home garden, the best practices for hunting and fishing, how to identify and collect edible food growing in the wild, and the proper tools, gear, and resources to use. Additionally, he gives us a slew of exciting recipes and preparation methods for our ingredients once they've been collected.
This combination how-to manual and cookbook is beautifully illustrated in full-color with Anderson's own photographs, capturing his ingredients, gear, rural surroundings, and exquisite dishes in rich and vivid detail. And with suggestions for possible substitutions and tips on bartering and selecting food from farmer's markets, Whole Larder Love is perfect for foodies, farmers, hunters, gardeners—even urbanites looking to inject their lives with a little rural romance—and anyone else interested in getting more involved with the origins of the food they eat.

Please click here for a preview of Whole Larder Love.
Rohan Anderson is a modern day food warrior. Raised on a small farm in rural Victoria in south east Australia, Anderson developed not only an affinity for nature, but also an understanding, and appreciation of the role nature plays in providing sustenance. Anderson has taken these lessons into his adult life where he now grows, hunts, fishes, and forages in wild and urban surroundings to feed his family. He also documents his adventures through photography, sharing his recipes, slow food philosophies and, (sometimes contentious) views on his hugely popular blog, Whole Larder Love. Describing himself not as a chef, but rather a family cook, Anderson is influenced by rustic, peasant-style cooking, with minimal fuss involved. It's unlikely that you'll find Anderson at the supermarket; instead he is usually wandering around his backyard garden, strolling through forests and paddocks fossicking for wild mushrooms, and fishing in cool mountain streams.
Cooking / Lifestyle
Hardcover, 7 x 9.5 inches, 240 pages, 200 color photographs.
ISBN: 978-1-57687-604-6, $35.00
A preview is available by clicking here: Whole Larder Love
High-res scans to your specification are available upon request; scanning from the book or lifting images from the mechanical file are strictly prohibited. Mandatory credit line: From Whole Larder Love: Grow Gather Hunt Cook by Rohan Anderson, published by powerHouse Books.
For more information, please contact Nina Ventura, Publicist
powerHouse Books, 37 Main Street, Brooklyn, NY 11201
Tel: 212-604-9074 x118, Fax: 212-366-5247, email: nina@powerHouseBooks.com

© Copyright 2012 powerHouse Books