FOR IMMEDIATE RELEASE:

powerHouse Books is pleased to announce the December 2012 release of
JOHN WAYNE: THE LEGEND AND THE MAN
An Exclusive Look Inside Duke's Archive
By John Wayne Enterprises
Essay by Patricia Bosworth
Foreword by Martin Scorsese
Remembrance by Maureen O'Hara
Interview with Ron Howard
Remembrance by Ronald Reagan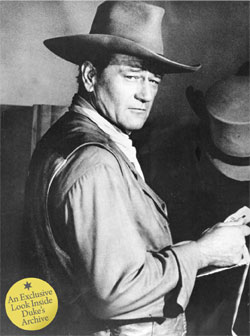 An undisputed American icon, John Wayne is recognized the world over for his signature drawl and manly swagger, and as the ultimate personification of American courage and honor. Now, John Wayne Enterprises has chosen powerHouse Books to produce the first-ever authorized photographic record of his life, both on-screen and off.
John Wayne: The Legend and the Man celebrates Duke's life and legacy through set photography and stills from his cinematic masterpieces: True Grit, Rio Grande, Sands of Iwo Jima, The Quiet Man, The Man Who Shot Liberty Valance, Fort Apache, and The Alamo; images from a surprising variety of early-career, leading-man films: The Big Trail, Stagecoach, Flying Tigers, They Were Expendable; and also intimate and never-before-seen images from family albums, awards (his Best Actor Oscar, Congressional Gold Medal, and the Presidential Medal of Freedom), fan mail, and his personal photographs with the likes of John Ford, Frank Sinatra, Ronald Reagan, and other Hollywood legends.
John Wayne: The Legend and the Man features the earliest photographs of young Marion Morrison, through his youth as a star football player at USC and into his Hollywood years. Images on and off-set with leading ladies, fellow actors, directors, and stars; horsing around with sons and tenderly embracing daughters; aboard his prized ship the Wild Goose, a converted wooden naval mine sweeper where the Wayne family and friends would spend months traveling from Alaska to Mexico and back; and engaged in one of his favorite activities—whooping it up with U.S. armed forces on leave.
Duke was more than just his on-screen persona—he was known by loved ones for his warmth, charm, charisma, passion, loyalty, and spirit. Through an in-depth exposé of the private moments, the inner thoughts, and familial memories, John Wayne: The Legend and the Man captures both the man and the myth and furthers the legacy of this giant of American cinema.
Please click here for a preview of John Wayne: The Legend and the Man.

About John Wayne Enterprises, LLC:
John Wayne Enterprises is the sole and exclusive grantee from John Wayne during his lifetime of all commercial merchandising and allied rights relating to the use of his Name, Likeness, Signature, Voice or Photographs. John Wayne Enterprises' primary mission is to preserve and protect the name, likeness and image of John Wayne by associating the John Wayne brand with quality and timeless products and experiences that embody the spirit of John Wayne and give back to the community. To further its mission, John Wayne Enterprises enters into selective licensing or partnership agreements in Advertising and Merchandising; Cancer Research, Treatment and Education; and Public Facilities, Institutions, and Agencies. John Wayne Enterprises is a limited liability company owned by children and grandchildren of John Wayne and is managed by Ethan Wayne. For more information visit www.johnwayne.com.
Celebrity / Cinema / The Duke
Hardcover, 9.25 x 12.25 inches, 272 pages.
ISBN: 978-1-57687-590-2, $45.00
A preview is available by clicking here: John Wayne: The Legend and the Man
High-res scans to your specification are available upon request; scanning from the book or lifting images from the mechanical file are strictly prohibited. Mandatory credit line: From John Wayne: The Legend and the Man by John Wayne Enterprises, published by powerHouse Books.
For more information, please contact Nina Ventura, Publicist
powerHouse Books, 37 Main Street, Brooklyn, NY 11201
Tel: 212-604-9074 x118, Fax: 212-366-5247, email: nina@powerHouseBooks.com
or Amy Denoon at Beach House PR, 243 Walnut, Newport Beach, CA 92663, Tel: 310-693-2991

© Copyright 2012 powerHouse Books