FOR IMMEDIATE RELEASE:

powerHouse Books is pleased to announce the March 2013 release of
IF YOU KNEW ME YOU WOULD CARE
By Zainab Salbi
Photographs by Rennio Maifredi
Forewords by Meryl Streep, Annie Lennox, Ashely Judd, and Geena Davis
Review by Angelina Jolie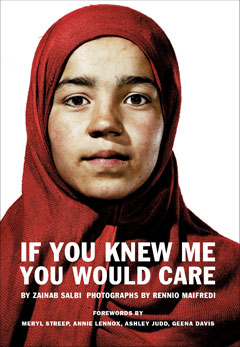 If You Knew Me You Would Care represents a journey taken to find women who have survived wars, violence, and poverty in order to collect their stories. The stories go beyond tears and victimhood and reveal joy, love, and forgiveness.
If You Knew Me You Would Care is a collaboration between women's rights activist and Women for Women International founder Zainab Salbi and photographer Rennio Maifredi. Together they traveled to Afghanistan, the Democratic Republic of Congo, Rwanda, and Bosnia and Herzegovina to seek out women who have been subject to the worst trials individuals must ever face, and yet overcame this adversity. Salbi conducted interviews with women about their definitions of war and peace, about their horrific and tragic pasts and their hopes for the future, and Maifredi photographed each of the women interviewed. The interviews and images together create a compelling, global, first-person account of what it means to be a powerful, female, survivor.
If You Knew Me You Would Care is a celebration of women's stories and strength worldwide.
"The women in this book are an inspiration to all of us who aspire to triumph over adversity. It is a personal peek at the most initimate stories as told by women who have survived war. It is a tribute to them, to their survival, their achievements, and their dreams. I hope people everywhere will take away the powerful message of survival this book inspires."
—Zainab Salbi
Please click here for a preview of If You Knew Me You Would Care.

Zainab Salbi is a women's rights activist, humanitarian, and writer. She coauthored the bestselling memoir, Between Two Worlds: Growing up in Tyranny; Escaping the Shadow of Saddam (Gotham, 2005), with Laurie Becklund and The Other Side of War: Women's Stories of Survival and Hope (National Geographic, 2006), with photographers Susan Meiselas, Sylvia Plachy, and Lekha Singh. Salbi is the founder of Women for Women International, an organization providing women survivors of war, civil strife, and other conflicts with the tools and resources to move from crisis and poverty to stability and self-sufficiency. Salbi served as the organization's CEO from 1993-2011. Among her numerous honors, Salbi was named as a "21st Century Heroine" by Harper's Bazaar in 2010. Newsweek, The Guardian, and the Economist Intelligence Unit each named Salbi as one of the most influential and inspirational women in the world in 2011.
Rennio Maifredi is a photographer whose fashion work has been featured in Allure, Vogue, and Marie Claire. He has a particular passion for portrait photography and his work in that area has been featured in The New York Times Magazine, Time, and Wired. His work has been exhibited in private collections in New York City. Maifredi was born and raised in Italy and is currently based in New York.
Social Science / Women's Studies / Photography-Portraits
Hardcover, 10.25 x 15.125 inches, 144 pages, 62 four-color photographs.
ISBN: 978-1-57687-619-0, $65.00
A preview is available by clicking here: If You Knew Me You Would Care
High-res scans to your specification are available upon request; scanning from the book or lifting images from the mechanical file are strictly prohibited. Mandatory credit line: From If You Knew Me You Would Care by Zainab Salbi, photographs by Rennio Maifredi, published by powerHouse Books.
For more information, please contact Nina Ventura, Publicist
powerHouse Books, 37 Main Street, Brooklyn, NY 11201
Tel: 212-604-9074 x118, Fax: 212-366-5247, email: nina@powerHouseBooks.com

© Copyright 2012 powerHouse Books