FOR IMMEDIATE RELEASE:

powerHouse Books is pleased to announce the December 2012 release of
NEW YORK AT NIGHT:
PHOTOGRAPHY AFTER DARK
Edited by Norma Stevens and Yolanda Cuomo
Text by Pete Hamill, Adam Gopnik, Vince Aletti, and Patricia Marx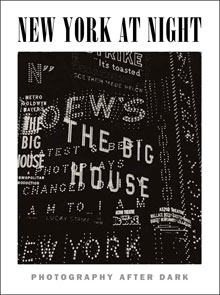 New York at Night: Photography after Dark, showcases images of New York City's legendary nightlife by the leading photographers of the 20th and 21st centuries, from Joseph Byron and James Van Der Zee to Henri Cartier-Bresson, Diane Arbus, Elliott Erwitt, Larry Fink, and more. As diverse and complicated as the city itself, New York's nightlife is glamorous and grungy, lonely and dangerous, highbrow and lowbrow. These images are complimented by writing from some of New York's most respected contemporary authors, adding depth, context, and personal stories of their own experiences to those presented by the photographers. This engaging book captures the energy of the New York night and the city's evolving hotspots, building a history of how New Yorkers play after dark and how that helps make this city a cultural and entertainment powerhouse.
Photographers featured within the book include: Berenice Abbott, Apeda Studio, Amy Arbus, Diane Arbus, Eve Arnold, Richard Avedon, John Baeder, Frank Bauman, Guy Bourdin, Henri-Cartier Bresson, Bonnie Briant, Paul Brissman, René Burri, Joseph Byron, Drew Carolan, Bob Colacello, Cornell Capa, Ted Croner, John Cohen, Philip-Lorca diCorcia, Bruce Davidson, Elliott Erwitt, Walker Evans, Louis Faurer, Donna Ferrato, Larry Fink, Robert Frank, Lee Friedlander, Paul Fusco, Ron Galella, William Gedney, Bruce Gilden, Burt Glinn, Nan Goldin, William P. Gottlieb, Samuel H. Gottscho, Charles Harbutt, Philip Harrington and Arthur Rothstein, Paul B. Haviland, Evelyn Hofer, Thomas Hoepker, Jenny Holzer, Peter Hujar, Douglas Jones, Collin LaFleche, Joan Liftin, Sid Kaplan, William Klein, Stanley Kubrick, Elliott Landy, Annie Leibovitz, Peter Lindbergh, Roxanne Lowit, Alex Majoli, Fred McDarrah, Ryan McGinley, Susan Meiselas, Lisette Model, Inge Morath, Helmut Newton, Toby Old, Paolo Pellegrin, Iriving Penn, Gilles Peress, Anton Perich, Hy Peskin, Jean Pigozzi, Sylvia Plachy, Robin Platzer, Eli Reed, Jacob Riis, Damien Saatdjian, Paule Saviano, Sam Shaw, Lise Sarfati, Neil Selkirk, Norman Seeff, Aaron Siskind, Dennis Stock, Erika Stone, Christopher Thomas, Garry Winogrand, Weegee, Peter Van Agtmael, and James Van Der Zee.
Please click here for a preview of New York at Night: Photography after Dark.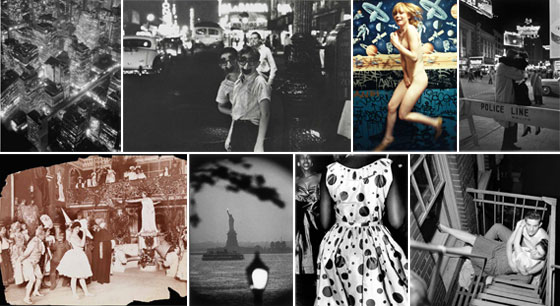 Captions:
Cover Image: Walker Evans, Broadway, 1930.
Top row left to right: BERENICE ABBOTT, The Night View, 1932, SID KAPLAN, Halloween, Times Square, New York City, 1954, RYAN McGINLEY, Lizzy, 2002 , HENRI CARTIER-BRESSON, New Year's Eve in Times Square, 1952.
Bottom row, left to right: JOSEPH BYRON, A Scene from the New York Production of Alphonse Daudet's "Sapho" presented at Wallack's Theatre, Featuring Olga Nethersole as Fanny Legrand, 1905, BRUCE DAVIDSON, The Statue of Liberty at Night with Lamp Post, 1958, WILLIAM KLEIN, ca.1955, STANLEY KUBRICK, Young couple on Fire Escape, 1948.
. . . . .
Norma Stevens joined the Richard Avedon Studio in 1976, after a successful career as an advertising copywriter and creative director. It was in this work that she began a 30-year association with Richard Avedon, in which Stevens managed and collaborated on all Studio projects—commercial, editorial, fine arts. Additionally, structuring the private operating foundation that would protect his legacy and be named for him after his death. In 2004, Ms. Stevens became the founding executive director of The Richard Avedon Foundation. She then joined the Museum of the City of New York spearheading the Museum's Photography Initiative Program. Currently, she is working on a publication, a memoir and tribute, to the Avedon Studio.
For over 25 years Yolanda Cuomo Design has produced a wide range of projects that demonstrate the studio's passion and skill, crafting striking visual solutions that merge words with images. Publication and exhibition projects include the work of Richard Avedon, Diane Arbus, Sylvia Plachy, Gilles Peress, and other legends in the cultural world. Yolanda Cuomo Design has been honored with several important industry awards, including the ICP Infinity Award and the prestigious National Magazine Award in the category of General Excellence from the American Society of Magazine Editors (ASME).
Adam Gopnik has been writing for The New Yorker since 1986. His work for the magazine has won the National Magazine Award for Essay and Criticism as well as the George Polk Award for Magazine Reporting. He has published several books including Paris to the Moon (Random House, 2001), Through the Children's Gate (Knopf, 2006), and a children's novel, The King in the Window (Miramax, 2005).
Vince Aletti reviews photography exhibitions for The New Yorker's "Goings on About Town" section and writes a regular column about photo books for Photograph. His work has also appeared in Aperture, Art + Auction, and photoworks. Aletti was the art editor of the Village Voice from 1994 to 2005 and the paper's photo critic for 20 years. In 2005, he won the International Center of Photography's Infinity Award for writing. He is currently an adjunct curator at ICP.
Patricia Marx is a comedy writer and the first girl on the staff of The Harvard Lampoon. Her television credits include Saturday Night Live and Rugrats. Her books include, Him Her Him Again The End of Him (Scribner, 2007), How To Regain Your Virginity (Workman, 1983), Blockbuster (Bantam, 1988), and several children's books illustrated by cartoonist Roz Chast. Marx's writing has appeared in The New Yorker, The New York Times, Vogue, and The Atlantic.
Pete Hamill started his career as a reporter for The New York Post in 1960. He is the only person to be editor of both New York tabloid newspapers, The Post and The Daily News. He also worked as a columnist, has written articles for numerous magazines, and has also written screenplays. Hamill is the author of 20 books, including the novel Snow in August (Little, Brown and Co., 1997) and his bestselling memoir A Drinking Life (Little, Brown and Co., 1994).
Photography / New York City
Clothbound with slipcase, 10.25 x 13.75 inches, 192 pages with a 16 page insert.
ISBN: 978-1-57687-616-9, $125.00
A preview is available by clicking here: New York at Night: Photography after Dark
High-res scans to your specification are available upon request; scanning from the book or lifting images from the mechanical file are strictly prohibited. Mandatory credit line: From New York at Night: Photography after Dark edited by Norma Stevens and Yolanda Cuomo, published by powerHouse Books.
For more information, please contact Nina Ventura, Publicist
powerHouse Books, 37 Main Street, Brooklyn, NY 11201
Tel: 212-604-9074 x118, Fax: 212-366-5247, email: nina@powerHouseBooks.com

© Copyright 2012 powerHouse Books