FOR IMMEDIATE RELEASE:

powerHouse Books is pleased to announce the December 2012 release of
LCD
Photography by Ruvan Wijesooriya
Introduction by James Murphy
In 2011, at the height of their career, LCD Soundsystem decided to end the band.

From 2004 to the day they quit, photographer Ruvan Wijesooriya navigated through both private and public moments with the influential, Grammy-nominated, NYC indie band. Ruvan was a fan, first and foremost, and quickly became a fly on the wall and instigator who brought new meaning to the term, "I'm with the band." His access and friendship with LCD is something rare in the commercialized and controlled music industry of today, and this close relationship can be seen in the rapport between photographer and subject. The locations include Hyde Park in London, various New York institutions, Coachella, Rick Rubin's recording mansion in the Hollywood Hills, Way Out West festival in Sweden, Miami Art Basel and more. In addition, the scope of the book goes beyond just photography and features various album art and original interviews with members of the band and showcases an exciting design by James Timmins, art director of Dossier magazine. A handful of these photographs were featured in the recent LCD film, Shut Up And Play The Hits, and others have appeared in Rolling Stone, Spin, The New York Times Magazine, and The New Yorker, but the vast majority have never been shown before, making this the ultimate must-have for every fan to remember the band.

"All of Ruvan's pictures remind me of that feeling: that you're geographically fucked, and its all happening right now, somewhere else, without you. There's an enormous amount of intimacy in them, and promise, and intrusion..."
—James Murphy, LCD bandleader
Please click here for a preview of LCD.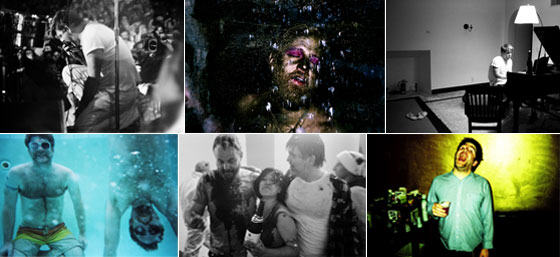 Ruvan Wijesooriya is a photographer based in New York City. After starting a skateboard company, working for fashion stylists, and writing about music, all before the age of 25, Ruvan became attracted to the storytelling qualities of analog photography. In February 2012 he curated an exhibition for the Swedish Consulate of New York and in March exhibited his music photographs at SXSW in Austin, Texas. Shortly after, he embarked on a tour doing a series of exhibits in Stockholm, Oslo, Copenhagen, and London. His foot is snugly rooted in pop culture with his film stills appearing in the LCD Soundsystem documentary, Shut Up And Play The Hits. A character on Gossip Girl was based on his work and 10 of his fine art prints permanently decorate its set. His prints are collected by many, most notably the artist Ed Ruscha, and his clients include The New Yorker, British Vogue, Jill Stuart, and Paul Smith.
James Murphy is an American musician, producer, DJ, and co-founder of record label DFA Records. His most well known musical project is LCD Soundsystem, the Grammy-nominated group that disbanded at the height of their glory in 2011 with a sold out concert at Madison Square Garden. Murphy is the focus of the film about that night, Shut Up And Play The Hits.
Originally from England, art director and designer James Timmins—renowned for his bold graphic design and compelling editorial work—cut his publishing teeth at Italian Vogue before moving to New York City. Since arriving in Manhattan, Timmins has cast a long shadow as the design and art director of several arts and culture publications, including Dossier Journal, Vault Magazine, and 69 Magazine. Additionally he works regularly as a consultant for the renowned luxury advertising agency Laird and Partners, providing international fashion brands with distinct visual identities. Tireless in his pursuit of new challenges, Timmins is also currently collaborating with Richard Phillips on a book to coincide with the artist's upcoming exhibition at Gagosian Gallery and teaming up once again with photographer Ruvan Wijesooriya, this time on a book of nudes.
Music / Photography / Celebrity
Hardcover, 7.25 x 9.75 inches, 216 pages.
ISBN: 978-1-57687-628-2, $29.95
A preview is available by clicking here: LCD
High-res scans to your specification are available upon request; scanning from the book or lifting images from the mechanical file are strictly prohibited. Mandatory credit line: From LCD by Ruvan Wijesooriya, published by powerHouse Books.
For more information, please contact Nina Ventura, Publicist
powerHouse Books, 37 Main Street, Brooklyn, NY 11201
Tel: 212-604-9074 x118, Fax: 212-366-5247, email: nina@powerHouseBooks.com

© Copyright 2012 powerHouse Books