FOR IMMEDIATE RELEASE:

Alongside the November release of the Limited Edition
powerHouse Books is pleased to announce the June 2013 release of
the Trade Edition of
BEYOND THE ROBE
SCIENCE FOR MONKS AND ALL IT REVEALS ABOUT TIBETAN MONKS AND NUNS
By Bobby Sager
With forewords by Robert Thurman and Matthieu Ricard
Beyond the Robe features insights from Science for Monks, the first program in the 1,500-year history of Tibetan Buddhism that teaches Western science as part of the monastic curriculum.

Now, 12 years since its inception, Western science has been added to the monasteries' core curriculum, a decision the Dalai Lama calls the most significant change to the monastic curriculum in centuries.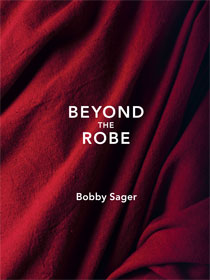 Twelve years ago, the Sager Family Foundation, the Library of Tibetan Works and Archives, and the Dalai Lama's private office began a groundbreaking program called Science for Monks to teach Western science to Tibetan monks and nuns. Recently, Tenzin Gyatso, His Holiness the 14th Dalai Lama announced a decision by the leaders of the monasteries to make the study of Western science part of the core curriculum required of all monastic scholars in the Gelug tradition.

Beyond the Robe tells the story of the decade long development of the Science for Monks program and what it reveals about the larger role Tibetan Buddhist monks and nuns can play in their monasteries, in their communities, and in the world at large. Beyond the Robe is a collection of essays from the monks and scientists containing the first insights that have come out of this historic effort. Beyond the Robe follows the monks' study of science, but it is not a science book. The real story here is what the study of science has revealed about who these remarkable men and woman really are and the much bigger role that they seem so suited to fill.

"I hope that Beyond the Robe helps you to feel closer to the monks and nuns and to better understand their immense potential to provide leadership in their world and further insight into ours. Instead of simply admiring them from afar, let's all get close enough to really listen."
—Bobby Sager
"Bobby Sager has been not only a most generous and dedicated benefactor of the Science for Monks program since it was launched 12 years ago, but also he is a direct witness to its flourishing. His testimony and insight are key to an in-depth understanding of this unique encounter between two major traditions of knowledge, Buddhist contemplative science and modern Western science. His account provides a welcome encouragement to this wonderful meeting of minds and hearts at the service of humanity."
—Matthieu Ricard
"Beyond the Robe has many fascinating dimensions and makes a critical contribution to Tibet, to Buddhism, and to our world today. The space it opens is the world of the Tibetan Buddhist monastic universities, still thriving in Indian exile. Within that world, we encounter, in beautiful and thought provoking ways, the living tradition of Buddhist monastics, their realms of study, debate, prayer, and meditation, and their living intellectual and experiential encounter with the modern worldview, with its discoveries, technologies, and anxieties."
—Robert Thurman
Please click here for a preview of BEYOND THE ROBE or click here to visit BeyondtheRobe.org.

Bobby Sager is a tough-minded businessman who made a fortune by seeing opportunity where others have not. In 2000, Bobby and his wife and kids founded the Sager Family Traveling Foundation & Roadshow (teamsager.org). Three-dozen trips later, the Sagers have established their own special brand of hands-on, eyeball-to-eyeball philanthropy. With Bobby, there are no handouts, no charity. His philanthropy uses business principles and business accountability, whether it's fostering entrepreneurship in Rwanda and Palestine, training teachers in Pakistan, or a leadership program for Tibetan monks.

Using his camera as a way to connect with people, Sager's photographs have been featured in numerous publications and have been seen by over 4 million people at concerts and events around the world. He authored The Power of the Invisible Sun (Chronicle Books, 2009), which was featured on NBC's The Today Show and ABC World News, and UNICEF selected the book as one of its featured publications.

Sager has been a pioneer in catalyzing Young Presidents' Organization (YPO) as a platform to make a difference. In 2001, Bobby was a founding chairman of YPO Peace Action Network, which convenes business leaders from different sides of conflicts. That network has now grown into eight Social Enterprise Networks with 6,000 members who are engaged in making a difference all over the world. Sager has been recognized by YPO as the first ever recipient of their Global Humanitarian Award, and he recently won YPO's most prestigious Hickok Award for distinguished service. He is also Honorary Consul General for the governments of both Rwanda and Nepal and has given speeches at venues around the world including the General Assembly Hall of the UN and the Sydney Opera House.

Bobby was the Executive Producer for A Guide to Recognizing Your Saints (2006), winner of Sundance Film Festival's Special Jury Prize and Venice Film Festival's Critics' Week Prize. His philanthropy was the inspiration for the NBC prime-time drama The Philanthropist (2009). Bobby received a Bachelor of Arts degree in economics from Brandeis University and a Master's in Management from Yale University.
Robert Thurman is Professor of Indo-Tibetan Buddhist Studies in the Department of Religion at Columbia University, President of Tibet House U.S., and President of the American Institute of Buddhist Studies. He has BA, AM, and PhD degrees from Harvard and has studied in Tibetan Buddhist monasteries in India and the United States. The New York Times recently hailed him as "the leading American expert on Tibetan Buddhism." The first American to have been ordained a Tibetan Buddhist monk (1962) and a personal friend of the Dalai Lama for over 40 years, Professor Thurman is a passionate advocate and spokesperson for the truth regarding the current Tibet-China situation and the human rights violations suffered by the Tibetan people under Chinese rule. He has also authored many books on Tibet, Buddhism, art, politics, and culture, including most recently, Why the Dalai Lama Matters: His Act of Truth as the Solution for China, Tibet and the World (2008).
Matthieu Ricard is a Buddhist monk, an author, translator, and photographer. He has lived, studied, and worked in the Himalayan region for over 40 years. He earned a PhD in cell genetics at the renowned Institut Pasteur under the Nobel Laureate Francois Jacob. He is the author and photographer of Journey to Enlightenment, Buddhist Himalayas, Monk Dancers of Tibet, Tibet: An Inner Journey, Motionless Journey, and Bhutan: Land of Serenity. Ricard donates all proceeds from his books and much of his time to 110 humanitarian projects in Himalayan areas (www.karuna-shechen.org) and to the preservation of the Tibetan cultural heritage (www.shechen.org). Since 1989, Ricard has served as the French interpreter for the Dalai Lama. He is an active member of the Mind and Life Institute, an organization dedicated to collaborative research between scientists and Buddhist scholars and meditators. When he is not traveling, Ricard resides at Shechen Monastery in Nepal.
All of Sager Family Foundation's proceeds from this book are going to support programs that promote teaching Western science to Tibetan monks and nuns.
Photography / Tibetan Buddhism / Science / Religion
Hardcover, 9.25 x 12.25 inches, 312 pages, over 100 photographs, including both portraits
and fine-art photography.
ISBN: 978-1-57687-638-1, $60.00
A preview is available by clicking here: BEYOND THE ROBE
High-res scans to your specification are available upon request; scanning from the book or lifting images from the mechanical file are strictly prohibited. Mandatory credit line: From Beyond the Robe by Bobby Sager, published by powerHouse Books.
For more information, please contact Nina Ventura, Publicist
powerHouse Books, 37 Main Street, Brooklyn, NY 11201
Tel: 212-604-9074 x118, Fax: 212-366-5247, email: nina@powerHouseBooks.com

© Copyright 2013 powerHouse Books