FOR IMMEDIATE RELEASE:

powerHouse Books is pleased to announce the March 2013 release of
Seven American Deaths and Disasters
By Kenneth Goldsmith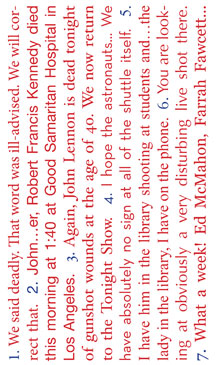 What are the words we use to describe something that we never thought we'd have to describe? In Seven American Deaths and Disasters, Kenneth Goldsmith transcribes historic radio and television reports of national tragedies as they unfurl, revealing an extraordinarily rich linguistic panorama of passionate description. Taking its title from the series of Andy Warhol paintings by the same name, Goldsmith recasts the mundane as the iconic, creating a series of prose poems that encapsulate seven pivotal moments in recent American history: the John F. Kennedy, Robert F. Kennedy, and John Lennon assassinations, the space shuttle Challenger disaster, the Columbine shootings, 9/11, and the death of Michael Jackson. While we've become accustomed to watching endless reruns of these tragic spectacles—often to the point of cliché—once rendered in text, they become unfamiliar, and revealing new dimensions emerge. Impartial reportage is revealed to be laced with subjectivity, bias, mystery, second-guessing, and, in many cases, white-knuckled fear. Part nostalgia, part myth, these words render pivotal moments in American history through the communal lens of media.
Please click here for a preview of Seven American Deaths and Disasters.
Kenneth Goldsmith's writing has been called "some of the most exhaustive and beautiful collage work yet produced in poetry" by Publishers Weekly. Goldsmith is the author of ten books of poetry, founding editor of the online archive UbuWeb (ubu.com), and the editor of I'll Be Your Mirror: The Selected Andy Warhol Interviews, which was the basis for an opera, Trans-Warhol, that premiered in Geneva in March of 2007. An hour-long documentary on his work, Sucking on Words was first shown at the British Library in 2007. He teaches writing at The University of Pennsylvania, where he is a senior editor of PennSound, an online poetry archive. He held The Anschutz Distinguished Fellow Professorship in American Studies at Princeton University for 2009-10 and received the Qwartz Electronic Music Award in Paris in 2009. In May 2011, he was invited to read at President Obama's A Celebration of American Poetry at the White House, where he also held a poetry workshop with First Lady Michelle Obama. In 2011, he co-edited, Against Expression: An Anthology of Conceptual Writing and published a book of essays, Uncreative Writing: Managing Language in the Digital Age. Goldsmith was invited to participate in dOCUMENTA(13) in Kassel, Germany, 2012. In 2012, dOCUMENTA(13) published his Letter to Bettina Funcke as part of their "100 Notes—100 Thoughts" book series.
In the upcoming year The Museum of Modern Art appoints Kenneth Goldsmith as First Poet Laureate for their winter/spring 2013 term. Following the book release, Goldsmith will give his Laureate Lecture, followed by a book launch for Seven American Deaths and Disasters at the museum. More information on this event will follow as the release date approaches.
Literary Collections / Poetry / America
Paperback, 4.3 x 7.1 inches, 176 pages
ISBN: 978-1-57687-636-7, $19.95
A preview is available by clicking here: Seven American Deaths and Disasters
Scanning from the book or lifting pages from the mechanical file are strictly prohibited. Mandatory credit line: From Seven American Deaths and Disasters by Kenneth Goldsmith, published by powerHouse Books.
For more information, please contact Nina Ventura, Publicist
powerHouse Books, 37 Main Street, Brooklyn, NY 11201
Tel: 212-604-9074 x118, Fax: 212-366-5247, email: nina@powerHouseBooks.com

© Copyright 2012 powerHouse Books