FOR IMMEDIATE RELEASE:
powerHouse Books is pleased to announce the June 2013 release of
FORREST BESS
KEY TO THE RIDDLE
By Chuck Smith
Foreword by Robert Thurman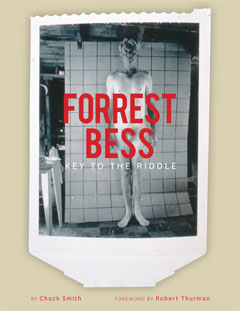 Painter, fisherman, pseudo-hermaphrodite—Forrest Bess lived his life in obscurity at an isolated bait camp off the east coast of Texas. From 1949 through 1967, Bess showed at the Betty Parsons Gallery in New York City, alongside superstar artists such as Jackson Pollock and Mark Rothko. Rediscovered after his death in 1977, Bess's small visionary paintings are now prized by museums and collectors for their primal beauty, and can fetch over $200,000 apiece.
Bess's treasured canvases were only part of a grander
theory—based on alchemy, Jungian philosophy, and aboriginal rituals—that proposed that hermaphrodism was the key to immortality. As an artist, Bess could never equivocate, and in 1960 he underwent an operation to become a pseudo-hermaphrodite. For the first time ever in print, Forrest Bess: Key to the Riddle combines the beauty of Bess's art with the drama and tragedy of his personal life. Using Bess's own hauntingly sincere words (in letters to Betty Parsons, Meyer Schapiro, and others) the book traces the life and logic of this forgotten artist and explains how a love of beauty and a desire for wholeness lead Bess to self-surgery and, ultimately, a mental hospital. Forrest Bess: Key to the Riddle is a fascinating look at one of America's most notorious cult visionaries—a man who truly believed that art could save his life.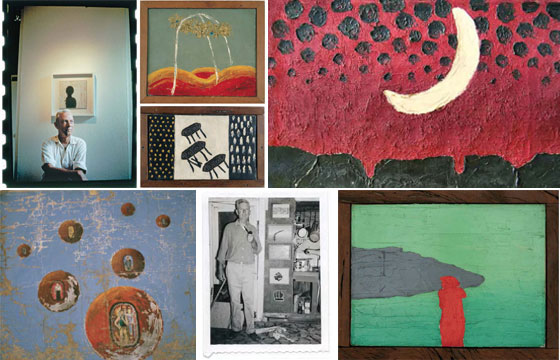 Please click here for a preview of FORREST BESS.
Chuck Smith is a New York based producer, writer, and filmmaker who has directed numerous documentaries and series for the National Geographic Channel, Discovery, and TLC. Prior to his work for cable TV, Smith was a producer for CBS News and Michael Moore's TV Nation. In 1997, Smith and photographer Ari Marcopoulos, author of Transitions and Exits (powerHouse Books, 2000), produced and directed the award-winning documentary Forrest Bess: Key to the Riddle, which features actor Willem Dafoe as the voice of Forrest Bess. Smith's short films and video interviews with artists such as Agnes Martin can be found on YouTube at chucksmithNYC.
Robert Thurman is Professor of Indo-Tibetan Buddhist Studies in the Department of Religion at Columbia University, President of Tibet House U.S., and President of the American Institute of Buddhist Studies. He has BA, AM, and PhD degrees from Harvard and has studied in Tibetan Buddhist monasteries in India and the United States. The New York Times recently hailed him as "the leading American expert on Tibetan Buddhism."
Art / Life Alchemy / Pseudo-Hermaphrodistic Studies
Hardcover, 8.5 x 11 inches, 168 pages, over 125 full-color images.
ISBN: 978-1-57687-622-0, $40.00
A preview is available by clicking here: FORREST BESS
High-res scans to your specification are available upon request; scanning from the book or lifting images from the mechanical file are strictly prohibited. Mandatory credit line: From Forrest Bess: Key to the Riddle by Chuck Smith, published by powerHouse Books.
For more information, please contact Nina Ventura, Publicist
powerHouse Books, 37 Main Street, Brooklyn, NY 11201
Tel: 212-604-9074 x118, Fax: 212-366-5247, email: nina@powerHouseBooks.com

© Copyright 2013 powerHouse Books