FOR IMMEDIATE RELEASE:

powerHouse Books is pleased to announce the September 2013 release of
One Foot Forward
Stories and Faces of Widows and Widowers
by Judith Fox
Foreword by Joanne Lynn, MD
Essay by Michele Reiss, PhD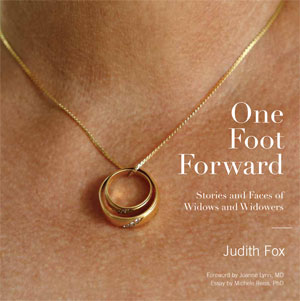 Very few people in this country are comfortable talking about end-of-life issues, death, and widowhood. When this most transformative of life events eventually happens, how does one continue on past the lingering questions, the new plans, the change in perspective?
One Foot Forward offers hope, solace, and the knowledge that you're not alone. The insightful and powerful stories of the 20 widowed women and men in this book are woven together with beautiful portraits to document bereavement, acceptance, and perseverance in the face of the life-altering death of a spouse.
Fox, herself widowed at the age of 50, interviewed people from a variety of backgrounds and cultures; people whose spouses died as a result of chronic illnesses and sudden deaths; people who were widowed in their 20s as well as those widowed in their 70s.
The journeys through bereavement in One Foot Forward are as singular as the subjects' relationships and lives, yet the grief and life-affirming determination to survive, and eventually thrive, are universal. Remarkably, most people do keep putting one foot forward, some to profound effect: many even construct new and often more meaningful lives. These are stories of resilience and triumph—of the human spirit finding a way to blossom after devastating loss.
"Judith Fox's book weaves together a beautiful quilt of individual stories that bring warmth to the cold, sad reality of death and dying. Her storytelling draws us in and her beautiful photographs capture a kaleidoscope of emotions. The universal message is that through grief, we must find hope to carry on. One Foot Forward is a must-read book as this will be a journey we will all take."
—Sherri Snelling, CEO, Caregiving Club; author of A Cast of Caregivers
"Judith Fox has created a beautiful portrait of both love and loss in this unique collection of stories. The perfect blend of photographs and written words provides readers with a compelling glimpse into the experience of outliving the person with whom you imagined spending all of your days. Powerful, genuine, and meaningful."
—Michele Neff Hernandez, Executive Director, Soaring Spirits Loss Foundation
"One Foot Forward compassionately and skillfully combines the very personal experiences with the stunning images of the widows and widowers it portrays. Each story, with its companion photographs, is a gift. I highly recommend One Foot Forward to anyone who appreciates beauty and wants a better understanding of the human journey."
—Richard D. Della Penna, MD, Geriatrician; Chief Medical Officer, Independa, Inc.
"The stories in One Foot Forward speak the language of loss, telling quiet secrets, those not often spoken. Listen to them closely and learn how people choose to welcome life again."
—Marcia Lattanzi Licht, LHD, RN, LPC, Educator; author; psychotherapist
100% of the author's royalties will be contributed to the National Hospice Foundation.
Please click here for a preview of One Foot Forward.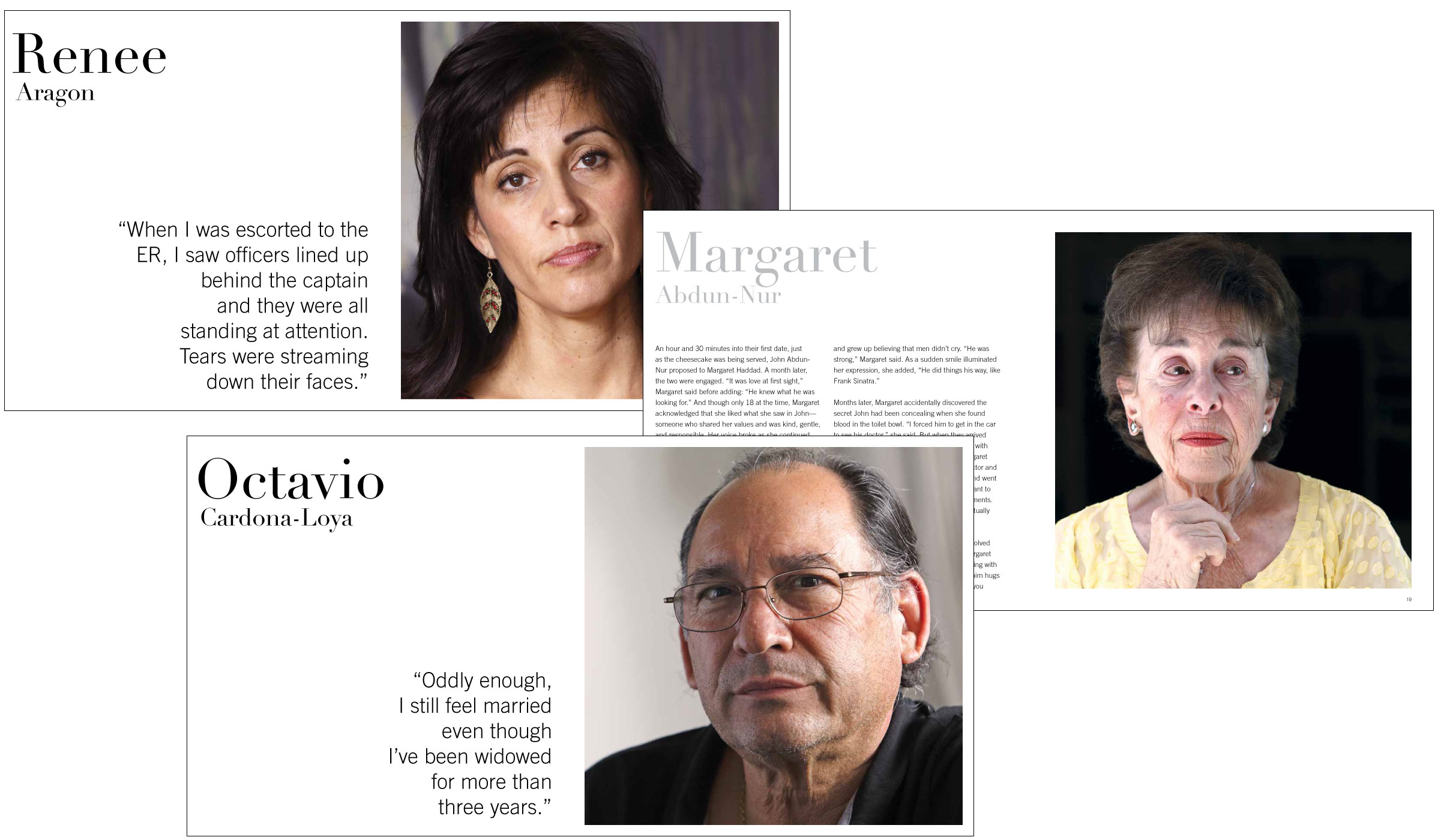 Judith Fox is an award-winning photographer, writer, business leader, and public speaker. Fox's photographs are in the permanent collections of the Los Angeles County Museum of Art, the Virginia Museum of Fine Arts, the Museum of Photographic Arts, the Southeast Museum of Photography, the Harry Ransom Center in Austin, the Haggerty Museum, and the Harn Museum. After her book, I Still Do: Loving and Living with Alzheimer's was released in 2009 (powerHouse Books), Fox became a global advocate for Alzheimer's awareness and education. She is a speaker and consultant on Alzheimer's and family caregiving for corporations, non-profit associations, and universities. I Still Do was named "one of the best photography books of 2009" by photo-eye Magazine.
Joanne Lynn, MD, is a geriatrician, hospice physician, health services researcher, quality improvement advisor, and policy advocate. She leads the Center on Elder Care and Advanced Illness for Altarum Institute. Dr. Lynn has published more than 250 professional articles, and her dozen books include Handbook for Mortals, The Common Sense Guide to Improving Palliative Care, and Sick to Death and Not Going to Take it Any More!
Michele Reiss, PhD, is an educator, psychotherapist, and author. She also maintains a private practice where she counsels people coping with life threatening illnesses, loss, and grief. Dr. Reiss is the author of Lessons in Loss and Living: Hope and Guidance for Confronting Serious Illness and Grief.
Health / Aging / Elder Care
Hardcover, 9.5 x 9.5 inches, 128 pages
ISBN: 978-1-57687-649-7, $29.95
A preview is available by clicking here: One Foot Forward
High-res scans to your specification are available upon request; scanning from the book or lifting images from the mechanical file are strictly prohibited. Mandatory credit line: From One Foot Forward by Judith Fox, published by powerHouse Books.
For more information, please contact Nina Ventura, Publicist
powerHouse Books, 37 Main Street, Brooklyn, NY 11201
Tel: 212-604-9074 x118, Fax: 212-366-5247, email: nina@powerHouseBooks.com

© Copyright 2013 powerHouse Books