FOR IMMEDIATE RELEASE:

powerHouse Books is pleased to announce the September 2013 release of
ADVANCED STYLE
THE COLORING BOOK
By Ari Seth Cohen and Ilan Schraer
Illustrated by Ilan Schraer based on photographs by Ari Seth Cohen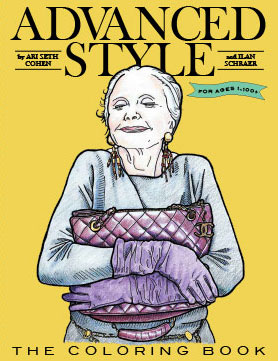 Age is nothing but a state of mind! And Advanced Style the Coloring Book proves it. Featuring 30 original drawings based on the glamorous seniors of the best-selling, silver-set street fashion book Advanced Style. Now it's your turn to get in on the action. Pull out your Crayolas or your Prismacolors and help everyone look their best by adding your own vibrant colors to these chic outfits. These drawings show that fashion isn't just for the young, and now, neither are coloring books! Fun for ages 1 to 100.
Please click here for a preview of Advanced Style the Coloring Book.
**For best quality viewing, download this PDF to your Desktop or open in Safari.**
Praise for Advanced Style
"In print and on film, Mr. Cohen's arrestingly bedizened models embrace fashion with a sense of play."
—Ruth La Ferla, The New York Times

"For all those who are sick and tired of seeing style and fashion presented solely as a young woman's game, behold Advanced Style."
—Los Angeles Times

"Celebrating the confidence, fashion and beauty that only comes with experience Advanced Style has gained global recognition."
—AnOther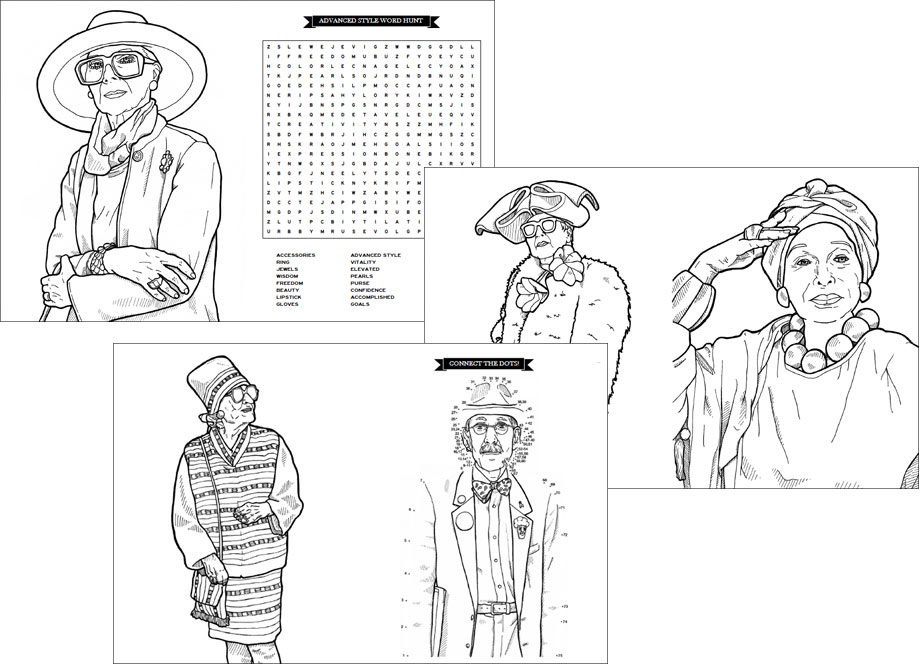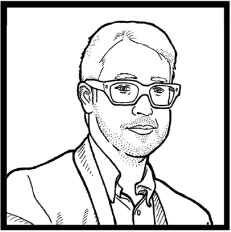 Ari Seth Cohen is a freelance writer, photographer, and blogger based in New York City. Inspired by his grandmother's style and his lifelong interest in the fashion and stories of vibrant seniors, he started the Advanced Style blog in 2008. After publishing his first book of photographs, Advanced Style (powerHouse Books, 2012), Cohen is finishing up a documentary based on the lives of his subjects.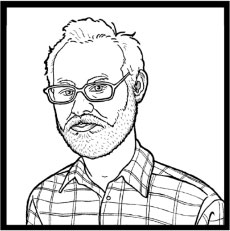 Ilan Schraer is a fine artist and illustrator based in Portland, Oregon. With a fondness for the absurd, his art explores his fascination with family history, portraiture, and the passage of time. Schraer has shown work in San Francisco and Portland, and his illustrations have been published in The Portland Mercury, Dewclaw, and various online periodicals.
Coloring Book for Fashionistas of All Ages / Style / The Art of Aging
Paperback, 8.375 x 10.875 inches, 32 pages
ISBN: 978-1-57687-663-3, $9.99
A preview is available by clicking here: Advanced Style the Coloring Book
High-res scans to your specification are available upon request; scanning from the book or lifting images from the mechanical file are strictly prohibited. Mandatory credit line: From Advanced Style the Coloring Book by Ari Seth Cohen, illustrated by Ilan Schraer, published by powerHouse Books.
For more information, please contact Nina Ventura, Publicist
powerHouse Books, 37 Main Street, Brooklyn, NY 11201
Tel: 212-604-9074 x118, Fax: 212-366-5247, email: nina@powerHouseBooks.com

© Copyright 2013 powerHouse Books