FOR IMMEDIATE RELEASE:

powerHouse Books is pleased to announce the October 2013 release of
PIN–UP Interviews
By PIN–UP
Design by Dylan Fracareta
Text contribution by Felix Burrichter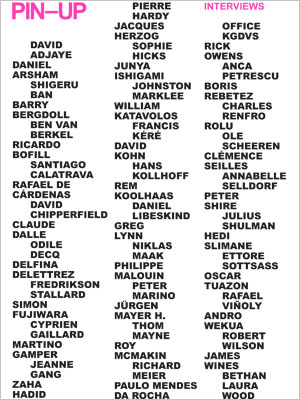 PIN–UP Interviews is a compilation of over 50 of the most fascinating interviews from PIN–UP magazine since its first issue was published in October 2006. Serious, yet accessible, and featuring the elegant and modern aesthetic PIN–UP's readers have come to expect, there is no comparable compilation found today with such a stunning array of contemporary design talent collected in one place. It's an indispensable source for all lovers of today's brightest architectural and design ideas.
PIN–UP Interviews is the first book produced by PIN–UP, the award-winning, New York-based biannual architecture and design magazine. Cheekily dubbing itself the "Magazine for Architectural Entertainment," PIN–UP features interviews with architects, designers, and artists, and presents their work informally—as a whimsical assembly of ideas, stories, and conversations, all paired with cutting-edge photography and artwork. Both raw and glossy, this "cult design zine" in the words of The New York Times, is a nimble mix of genres and themes, finding inspiration in the high and the low by casting a refreshingly playful eye on rare architectural gems, amazing interiors, and smart design, resulting in a veritable Venn diagram of where these spheres cross-pollinate.
Included in PIN–UP Interviews are the architects David Adjaye, Shigeru Ban, Ricardo Bofill, David Chipperfield, Zaha Hadid, Junya Ishigami, Rem Koolhaas, Peter Marino, Richard Meier, and Ettore Sottsass; artists Daniel Arsham, Cyprien Gaillard, Simon Fujiwara, Boris Rebetez, Oscar Tuazon, Andro Wekua, and Robert Wilson; and designers Rafael de Cárdenas, Martino Gamper, Rick Owens, Clémence Seilles, Hedi Slimane, and Bethan Laura Wood.
Please click here for a preview of PIN–UP Interviews.
**For best quality viewing, download this PDF to your Desktop or open in Safari.
Access press images by clicking here.
Andrew Ayers is an architectural historian and journalist based in Paris, France, and has been PIN–UP magazine's associate editor since 2007. He studied at the Bartlett School of Architecture and Planning, University College London, and currently teaches on Columbia University's New York-Paris program. Among his publications are The Architecture of Paris (Axel Menges, 2004) and the forthcoming Landscape Design in France Since 2000.
Felix Burrichter is a New York-based writer and creative director. He studied architecture at the Ecole Spéciale d'Architecture in Paris and Columbia University in New York before founding PIN–UP magazine in 2006, of which he is the editor and creative director. In addition to consulting on artists' book projects (Francesco Vezzoli, Paul Mpagi Sepuya) he is a regular contributor to T The New York Times Style Magazine, W, and Fantastic Man. He also writes a monthly design and architecture column for GQ Italia and is currently curating "Paper Weight," an exhibition on independent magazine culture for the Haus der Kunst in Munich, which opens in July 2013.
Dylan Fracareta runs an independent design practice focusing on design for art, architecture, fashion, and cultural sectors. He studied graphic design at the Hogeschool voor de Kunsten, Utrecht, The Netherlands and holds an MFA from Yale University. He currently is an adjunct professor for graphic design at the Rhode Island School of Design. Since 2006 Dylan has been the design director of PIN–UP, for which in 2010 he received a D&AD Yellow Pencil Award nomination, and in 2011 was awarded with the Gold Medal for Editorial Design by the Art Director's Club.
Architectural Entertainment / Art / Design
Paperback, 6.25 x 8.625 inches, 448 pages
ISBN: 978-1-57687-653-4, $29.95
A preview is available by clicking here: PIN–UP Interviews
High-res scans to your specification are available upon request; scanning from the book or lifting images from the mechanical file are strictly prohibited. Mandatory credit line: From PIN–UP Interviews by PIN–UP, text by Felix Burrichter, published by powerHouse Books.
For more information, please contact Nina Ventura, Publicist
powerHouse Books, 37 Main Street, Brooklyn, NY 11201
Tel: 212-604-9074 x118, Fax: 212-366-5247, email: nina@powerHouseBooks.com

© Copyright 2013 powerHouse Books