FOR IMMEDIATE RELEASE:

powerHouse Books is pleased to announce the November 2013 release of
INTERIORS
BY SANDRA NUNNERLEY

BOOK DESIGN BY YOLANDA CUOMO DESIGN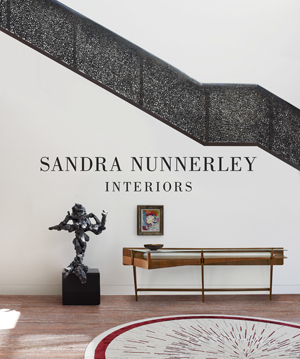 Sandra Nunnerley has worked on prestigious residential interior design commissions around the world—from urban apartments and town houses to tropical getaways to country homes and estates—for over 20 years.
Interiors lavishly chronicles Nunnerley's design vision, as expressed through these exquisite projects. Sumptuously illustrated with beautiful photography thematically organized in chapters on Serenity, Individuality, Refinement, Glamour, and more, the book documents how a wide variety of inspirations, including her globe-spanning travels, have influenced Nunnerley's work and how she thinks about design, suggesting how we might also look at the world around us to arrive at our own design approach.
For the first time, fans of Nunnerley's graceful and global vision can appreciate her attention to every subtle detail in splendid residences, many of which display important art collections and dramatic architecture. Included are such projects as Nunnerley's design for a thoroughly modern home featuring site-specific commissions by world-class artists, and a glamorous duplex that once belonged to Hollywood producer Jack Warner in the Sherry-Netherland Hotel.
"As European editor for Architectural Digest and later creator of Architectural Digest France, I've closely followed the evolution of Sandra Nunnerley's career. Her background in architecture and fine arts gives true depth to her work, and in her beautiful book, she brings the past and the future together with style." —Alexandra D'Arnoux
Please click here for a preview of Interiors.
**For best quality viewing, download this PDF to your Desktop or open in Safari.
New Zealand-born interior designer Sandra Nunnerley lives in New York City, where she runs a design studio specializing in high-end residential projects. W magazine has called her one of the most fashionable designers, she has been featured in Architectural Digest's list of the 100 most influential designers, and House & Garden (UK) named her in their international guide of leading designers. Her work has appeared in numerous publications, including The World of Interiors, Elle Decor, and Vogue Living.
Interior Décor / Architecture / Dwelling Studies
Hardcover, 10.5 x 12.75 inches, 240 pages
ISBN: 978-1-57687-669-5, $70.00
A preview is available by clicking here: Interiors
High-res scans to your specification are available upon request; scanning from the book or lifting images from the mechanical file are strictly prohibited. Mandatory credit line: From Interiors by Sandra Nunnerley, published by powerHouse Books.
Facebook | Tumblr | Twitter | Instagram | Houzz
For more information, please contact Nina Ventura, Publicist
powerHouse Books, 37 Main Street, Brooklyn, NY 11201
Tel: 212-604-9074 x118, Fax: 212-366-5247, email: nina@powerHouseBooks.com

© Copyright 2013 powerHouse Books