FOR IMMEDIATE RELEASE:

powerHouse Books is pleased to announce the December 2013 release of
THERE BUT NOT

by Jose Dávila
How many buildings around the world have such distinctive designs that simply their outline, and nothing else, is enough to identify them?
Artist Jose Dávila has physically cut out, from photographs, 90 of the world's most famous and beloved buildings and structures, from ancient marvels to contemporary gems. Long interested in the relationship between built space and physical place, Dávila saw that by focusing on just the silhouette of major architectural works, while still within their immediate environment, their grandeur was heightened beyond their undeniable visual allure. Following in the footsteps of his appropriationist forbears from the 1970s and 80s such as Sherrie Levine and Richard Prince, and staking a claim for the hand-produced in today's digital world, Dávila starts with structures so well-known they're often taken for granted, and reformats each with a renewed awareness occurring as a result. By cutting the images out by hand, he stays connected to the idea of physically manipulating space—just as architecture itself does.
There is no better way to see how a piece of architecture fits in with its surroundings than to observe its pure white silhouette—the effect allows for a whole new, enlightening experience. A unique appreciation for architectural form and creative genius develops when the viewer is confronted with the blank space where a building used to be, but now, on the page, is not.
Please click here for a preview of There But Not.
**For best quality viewing, download this PDF to your Desktop or open in Safari.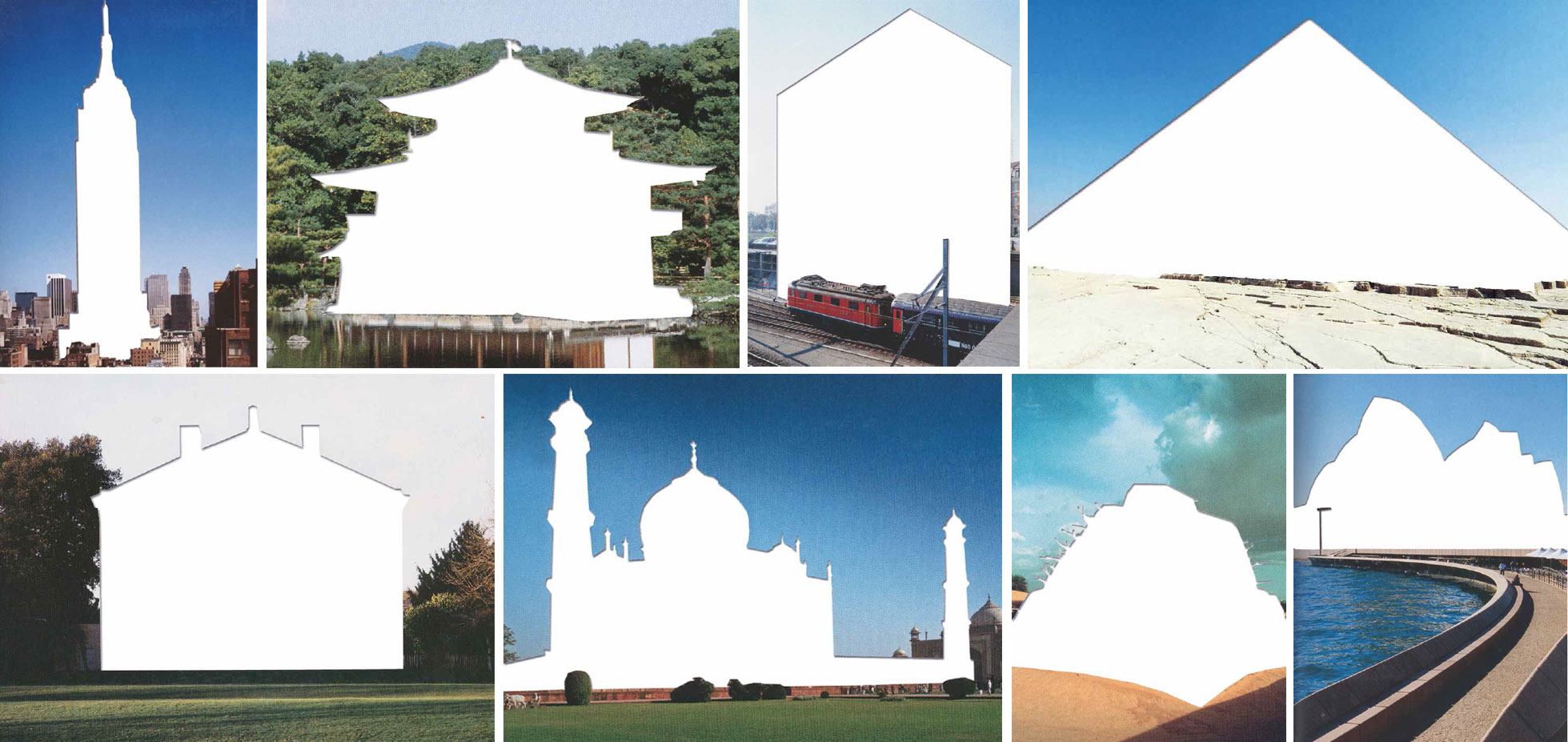 Top row: Empire State Building, New York, NY, USA, 1931; Temple of the Golden Pavilion, Kyoto, Japan, 1397; Basel SBB Switchtower, Basel, Switzerland, 1997; Great Pyramid of Giza, El Giza, Egypt, 2560 BCE; Bottom row: Marble Hill House, London, England, 1729; Taj Mahal, Agra, Uttar Pradesh, India, 1653; Tomb of Askia, Gao, Mali, Africa, 1495; Sydney Opera House, Sydney, Australia, 1973
Jose Dávila's work is fueled by an interest in the relation between place and fiction, space and temporality as it pertains to architecture. His sculptures, photography, and installations have been featured in the books Cream 3 (Phaidon, 2003), 100 Latin American Artists (Exit, 2007), and Megastructures Reloaded (Hatje Cantz, 2008), and been exhibited at PS1, New York; Kunst-Werke, Berlin; San Diego Museum of Art; Reina Sofia, Madrid; Prague Biennale; Camden Arts Centre, London; The Museé d'Art Moderne de Saint Etienne Métropole; Fundazione Brogovico 33, Lake Como; IVAM, Valencia, and more. Dávila has been the recipient of support from the Andy Warhol Foundation, Kunst-Werke residency in Berlin, and the National Grant for young artists by the Mexican Arts Council (FONCA) in 2000. He is the director and co-founder of OPA, an artist-run space, in Guadalajara, Mexico where he currently resides and works.
Photo Art / Architecture / Spatial Studies
Paperback, 10 x 9 inches, 160 pages
ISBN: 978-1-57687-658-9, $40.00
A preview is available by clicking here: There But Not
High-res scans to your specification are available upon request; scanning from the book or lifting images from the mechanical file are strictly prohibited. Mandatory credit line: From There But Not by Jose Dávila, published by powerHouse Books.
Facebook | Tumblr | Twitter | Instagram
For more information, please contact Nina Ventura, Publicist
powerHouse Books, 37 Main Street, Brooklyn, NY 11201
Tel: 212-604-9074 x118, Fax: 212-366-5247, email: nina@powerHouseBooks.com

© Copyright 2013 powerHouse Books