FOR IMMEDIATE RELEASE:

POW! is pleased to announce the December 2013 release of
SHADOWVILLE

by Michael Bartalos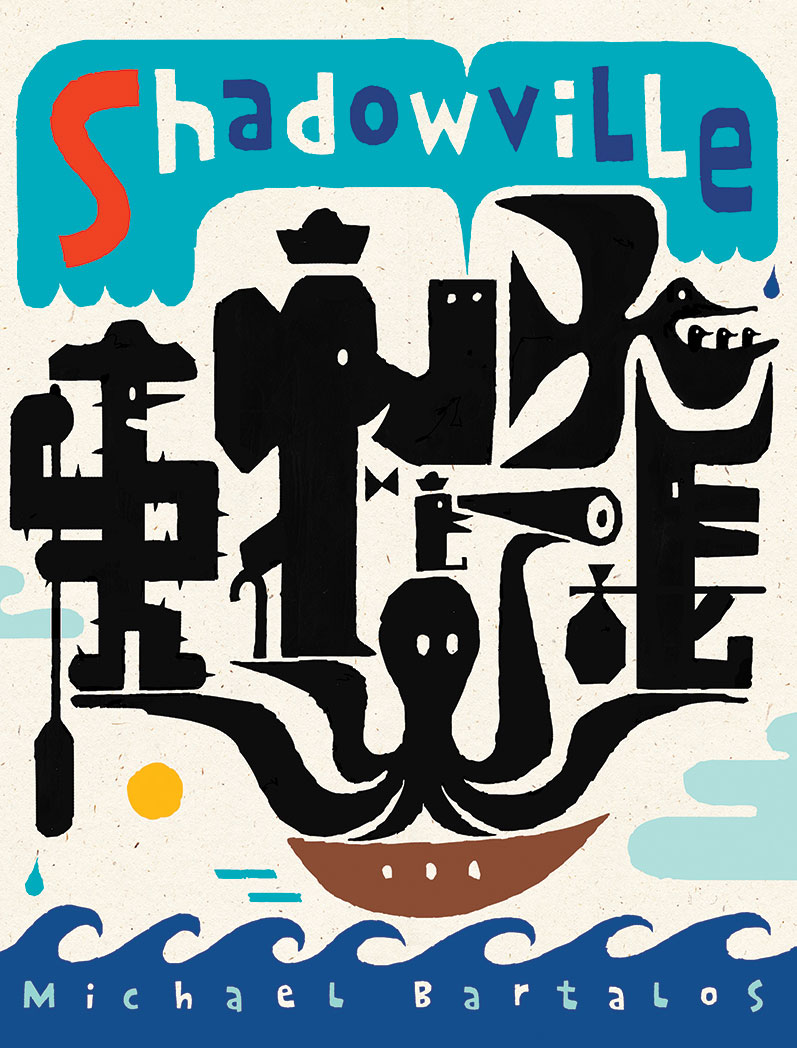 Where do shadows go at night? Young readers will find out when they take a trip to Shadowville. Shadowville is a delightfully quirky, highly graphic picture book that follows shadows to the secret, magical land they visit every evening when the sun goes down. There they are freed from their daytime jobs and come out to play, surf, dine, shop, and even travel from the Gobi to Nairobi!
Shadow planes and shadow cars
Bring them all from near and far.
Crossing oceans and a hill,
They all head toward Shadowville.
Originally published in 1995, this reissue showcases illustrator Michael Bartalos' retro, block-print style images and whimsical, rhyming text, promising to charm children and parents once again...this time with beautiful new endpapers and a striking new cover.
Please click here for a preview of Shadowville.
**For best quality viewing, download this PDF to your Desktop or open in Safari.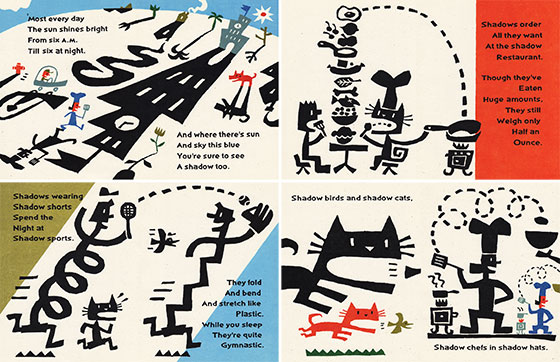 Michael Bartalos attended the School of the Art Institute of Chicago and Pratt Institute. He works extensively in the graphic arts in the US and Canada, Europe, and Japan. He has designed Swatch watches, U.S. postage stamps, seasonal Perrier bottles, and public art for the San Francisco Arts Commission. He also produces limited print editions and sculptural assemblages, and has created artist's book editions with the Xerox Palo Alto Research Center, the Maryland Institute College of Art, and the National Science Foundation's Antarctic Artists and Writers Program. Michael lives and works in San Francisco.
Shadow Play / Bedtime Stories / Ages 3-7
Hardcover, 10 x 7.75 inches, 32 pages
ISBN: 978-1-57687-645-9, $16.95
A preview is available by clicking here: Shadowville
High-res scans to your specification are available upon request; scanning from the book or lifting images from the mechanical file are strictly prohibited. Mandatory credit line: From Shadowville by Michael Bartalos, published by POW!
Facebook | Tumblr | Twitter | Instagram
For more information, please contact Nina Ventura, Publicist
powerHouse Books, 37 Main Street, Brooklyn, NY 11201
Tel: 212-604-9074 x118, Fax: 212-366-5247, email: nina@powerHouseBooks.com

© Copyright 2013 powerHouse Books