FOR IMMEDIATE RELEASE:

powerHouse Books is pleased to announce the May 2014 release of
THE BEATS

Photographs by Larry Fink
Essay and poem by Gerald Stern
Essay by Robert Cordier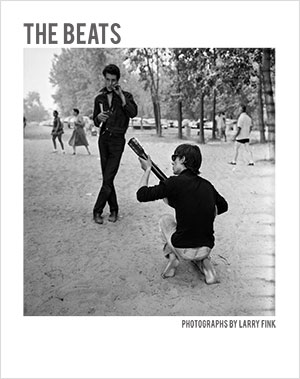 "The precocious young photographer Larry Fink chronicled a generation of poetic wanderers in the fifties with astonishing grace. The subjects in these photographs have no iPhone; they connect through guitars, typewriters, books, drums, and pens. This book confirms that Fink has always been a master at using light and line to communicate quiet yet energetic interior vistas; the ecstasy of repose."
—Mitch Epstein

"A beautiful and haunting harbinger—coming to us at last, though decades late. We should all hear this drum beat, now that it's finally upon us."
—Lisa Kereszi

"With The Beats Larry Fink proves that from the very beginning he has been a master of photographic improvisation who, with complex intuition and formal virtuosity, continues to reveal the improvisational quality of American lives."
—An-My Lê
In the late 50s after an unsuccessful stint in college, master photographer Larry Fink dropped out and began an odyssey of hitchhiking through America. Starting out in Cedar Rapids, Iowa, and moving on to Chicago, Larry travelled eastward through Cincinnati and finally back to his native soil on Long Island where his family waited with dismayed but open arms.
Clearly Long Island was not an optimal place for young Fink to remain. Striking out on his own once again, but this time for nearby Beat mecca, New York City, Fink settled down on Minetta Lane with a chap who fancied himself a poet.
Larry was quick to hit MacDougal Street where he met Turk, Mary, Bobbie, Motha, Ambrose, Randy, and Mike Stanley, not to mention Hugh Romney (a.k.a Wavy Gravy), LeRoi Jones, and so many more. Photographing, singing, and smoking weed scored in small brown paper bags on the avenues of the Village, Fink was living with internal rage, infernal optimism, and oh so many new freedoms. Just a kid, Larry yearned to get out and fight the revolution and to photograph while doing so.
The crew lived all together in the sub-basement of the Sullivan Street Theatre. Being next to the Village Gate, a now legendary jazz club, they dug their way to the rear of the club brick by brick to listen to their princes of expressive freedom: John Coltrane, Charles Mingus, and Art Blakey.
Fink, a Marxist and red diaper baby, didn't immediately fit in with Turk's crew, but they needed a young, drug-fueled, jazz-loving (and playing) photographer to document their visionary plight. So, it was decided that Larry sign on—they soon left New York to cross America for Mexico—in search of the soul of the Aztecs, the freedoms of the road, the compulsion of speed, the needy thrust of exaggerated adolescence. They moved fast and hysterically forward...
"It was my fate to be aligned with the Beats because of my propensity for drugs, anger, and poetry. Since they were second generation, without the same sense of immortal obsession such as the like of Kerouac and Ginsberg, they had a distinct need to be documented. Perhaps that is why they tolerated me. We were not a happy marriage and got our divorce in Mexico City. The pictures, made in 1958 and 1959, come from MacDougal Street in New York City all the way down to Mexico, and on the road in America." —Larry Fink
Please click here for a preview of The Beats.
**For best quality viewing, download this PDF to your Desktop or open in Safari.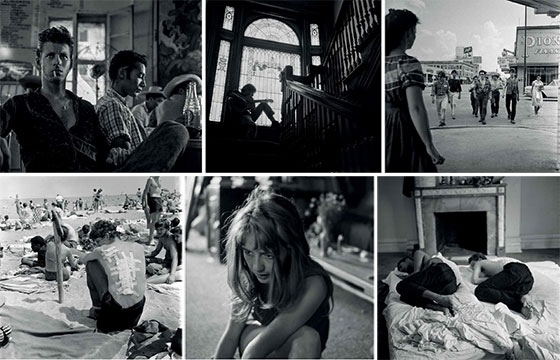 Larry Fink has had one man shows at The Museum of Modern Art, the Whitney Museum of Modern Art, the San Francisco Museum of Art, the Musée de la Photographie in Belgium, and the Musee de l'Elysee in Switzerland, amongst others. He shows in galleries regularly in New York, Los Angeles, and Paris, France. Along with two John Simon Guggenheim Fellowships in 1976 and 1979, and two National Endowment for the Arts, Individual Photography Fellowships in 1978 and 1986, he was awarded an honorary doctorate from the College for Creative Studies, College of Art and Design, Detroit, 2002. A career educator, Larry Fink has been teaching for the last 25 years as a professor of photography at Bard College. Larry's work has appeared in top publications such as Vanity Fair, W, GQ, Detour, New York Times Magazine, and The New Yorker, and Fink has published numerous monographs including: Social Graces (Aperture, 1984; powerHouse, 2001), Boxing (powerHouse, 1997), Runway (powerHouse, 2000), The Forbidden Pictures (powerHouse, 2004), Larry Fink (Phaidon, 2005), Primal Elegance (Lodima Press, 2006), Somewhere There's Music (Damiani Editore, 2006), Attraction and Desire: 50 Years in Photography (The Sheldon Art Galleries 2011), and The Vanities: Hollywood Parties 2000—2009 (Schirmer/Mosel 2011).
Gerald Stern is a Pittsburgh-born poet, essayist, and educator, as well as a contemporary—and friend—of Allen Ginsberg. He has been called an "American original" as well as "a sometimes comic, sometimes tragic visionary." Stern's poetry frequently references his all-American, working-class upbringing as well as his Jewish and Eastern European heritage. His many awards and honors include the Wallace Stevens Award, the Bess Hokin Award, the Ruth Lilly Prize, the Bernard F. Conners Award from the Paris Review, and the Pennsylvania Governor's Award for Excellence in the Arts. He has received fellowships from the Pennsylvania Council on the Arts, the National Endowment for the Arts, the Guggenheim Foundation, and was Poet Laureate of New Jersey from 2000-2002. Stern has taught at dozens of universities and most currently at the Iowa Writers' Workshop and is currently living on the Delaware River in Lambertville, New Jersey where he continues to write both prose and poetry.
"Robert Cordier is a DNA astronaut traveling through theatre space in the images he creates with his art. His American production of my play Billy the Kid or The Blossom (which influenced The Doors & Jim Morrison) was one of the revelatory, extravagant, joyous and terrifying experiences that drama has brought me." —Michael McClure
Photography / Beatniks / Greenwich Village
Hardcover, 9.7 x 12.25 inches, 96 pages
ISBN: 978-1-57687-689-3, $50.00
A preview is available by clicking here: The Beats
High-res scans to your specification are available upon request; scanning from the book or lifting images from the mechanical file are strictly prohibited. Mandatory credit line: From The Beats by Larry Fink, published by powerHouse Books.
Facebook | Tumblr | Twitter | Instagram
For more information, please contact Nina Ventura, Publicist
powerHouse Books, 37 Main Street, Brooklyn, NY 11201
Tel: 212-604-9074 x118, Fax: 212-366-5247, email: nina@powerHouseBooks.com

© Copyright 2014 powerHouse Books