FOR IMMEDIATE RELEASE:

powerHouse Books is pleased to announce the May 2014 release of
THE MIND'S EYE: THE ART OF OMNI

Edited by Jeremy Frommer and Rick Schwartz
Introduction by Ben Bova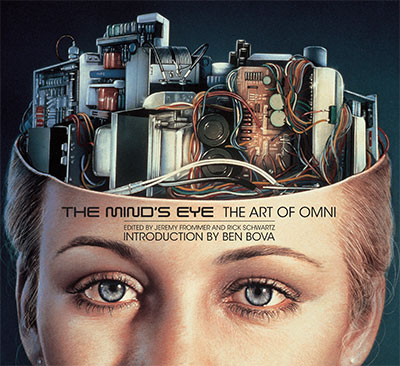 Omni was a jewel among popular science magazines of its era (1978–1998). Science Digest, Science News, Scientific America, and Discover may have all been selling well to armchair scientists, but Omni masterfully blended cutting edge science news and science fiction, flashy graphic design, a touch of sex, and the images of a generation of artists completely free and unburdened by the disciplines of the masters. Created by the legendary Bob Guccione, better known for founding Penthouse than perhaps any of the other facets of his inspired career in business, art, and literature, Guccione handpicked the artists and illustrators that contributed to the Omni legacy—they in turn created works ignited by passion and intellect, two of Guccione's principal ideals.
The Mind's Eye: The Art of Omni is the very first publication to celebrate in stunning detail the exceptional science fiction imagery of this era in an oversized format. The Mind's Eye contains 185 images from contributing Omni artists including John Berkey, Chris Moore, H.R. Giger, Rafal Olbinski, Rallé, Tsuneo Sanda, Hajime Sorayama, Robert McCall, and Colin Hay among many more, along with quotes from artists, contributors, writers, and critics.
Omni lived in a time well before the digital revolution. The images you see on these pages have taken years to track down and brought the editors in touch with many esteemed artists, amazing photographers and dusty storage lockers. Their quest is far from over; you'll notice an almost decade-long gap in the material, the contents of which were either lost or destroyed. Efforts to search throughout the universe for any images will continue and will be shared with the world at the all-things-Omni website, omnireboot.com. Stay tuned...
Collected in book form for the first time ever, the striking art from this extraordinary magazine will delight fans who remember seeing the work years ago and newcomers interested in the unique aesthetic of this genre's biggest artists.
Please click here for a preview of The Mind's Eye.
**For best quality viewing, download this PDF to your Desktop or open in Safari.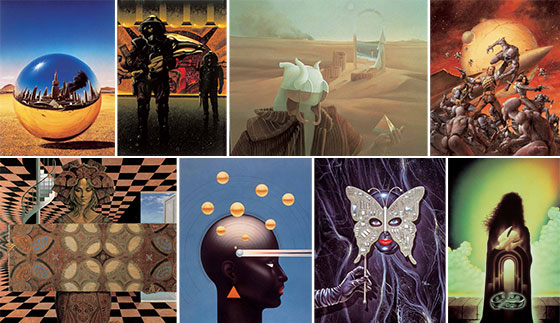 Jeremy Frommer, Wall Street financier and media industry investor, has been collecting art and pop culture memorabilia for over 20 years. In 2009, he retired from the financial services industry, where he was senior managing director and global head of The Royal Bank of Canada's Global Prime Services division. Soon thereafter, Frommer and his business partner, producer Rick Schwartz, began acquiring a number of intellectual properties and media assets. In early 2012, they formed Jerrick Ventures. Jerrick Ventures acquired the assets of Omni magazine, including its vast art collection.
Rick Schwartz is an award-winning film producer and financier based in New York. Throughout his career, he has worked on a wide range of critically acclaimed and commercially successful films including The Aviator, Gangs of New York, Machete, and Black Swan. Schwartz has been involved with movies that have cumulatively grossed over one billion dollars in worldwide box office sales and earned 31 Academy Award nominations. He is a member of the Producers Guild of America and the Screen Actors Guild, as well as a published writer whose work has appeared in such outlets as The Times of London, The Huffington Post, The Washington Times, and Grantland.
Science Fiction / Fantasy Illustration / Retro
Hardcover, 12.25 x 11.25 inches, 224 pages, 185 images
ISBN: 978-1-57687-686-2, $60.00
A preview is available by clicking here: The Mind's Eye: The Art of Omni
High-res scans to your specification are available upon request; scanning from the book or lifting images from the mechanical file are strictly prohibited. Mandatory credit line: From The Mind's Eye: The Art of Omni edited by Jeremy Frommer and Rick Schwartz, published by powerHouse Books.
Facebook | Tumblr | Twitter | Instagram
For more information, please contact Nina Ventura, Publicist
powerHouse Books, 37 Main Street, Brooklyn, NY 11201
Tel: 212-604-9074 x118, Fax: 212-366-5247, email: nina@powerHouseBooks.com

© Copyright 2014 powerHouse Books