FOR IMMEDIATE RELEASE:

powerHouse Books is pleased to announce the November 2014 release of
Malformed: Forgotten Brains of the Texas State Mental Hospital

By Adam Voorhes and Alex Hannaford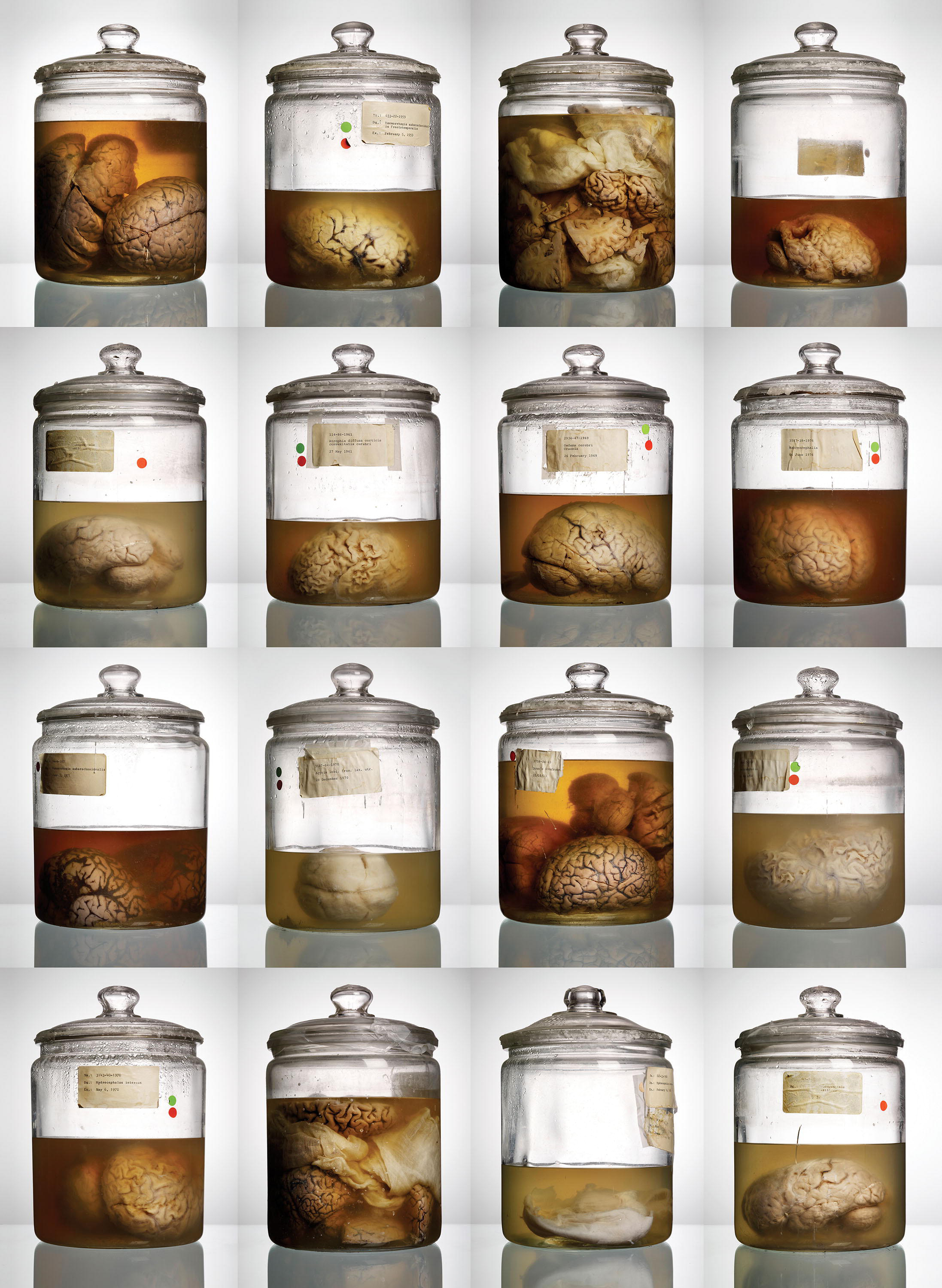 Hidden away out of sight in a forgotten storage closet deep within the bowels of the University of Texas State Mental Hospital languished a forgotten–but extraordinarily unusual–collection of 100 human brains preserved in jars of formaldehyde...many of them malformed or otherwise abnormal in some fashion.
Photographer Adam Voorhes discovered them in 2011 at the University of Texas and became obsessed with documenting them in close-up, high-resolution, large format photographs, revealing their oddities, textures, and otherworldly essence. Voorhes donned a respirator and chemical gloves, and began the painstaking process of photographing the collection. Desperate to know more about the provenance of the specimens, Voorhes, together with journalist Alex Hannaford, traveled down the rabbit hole of the collection's history.
Sifting through a century's worth of university documents, the truth-seekers discovered that rival universities had bitterly fought over the collection. But after winning the "Battle for the Brains" (against Harvard University amongst others) the University of Texas at Austin secured the collection. The result of the duo's efforts has been a revived interest in the collection with various science journals publishing writings and research about the brains. And the university is now creating MRI scans of the specimens and intends to showcase them at its new medical school.
Please click here for a preview of Malformed.
**For best quality viewing, download this PDF to your Desktop or open in Safari.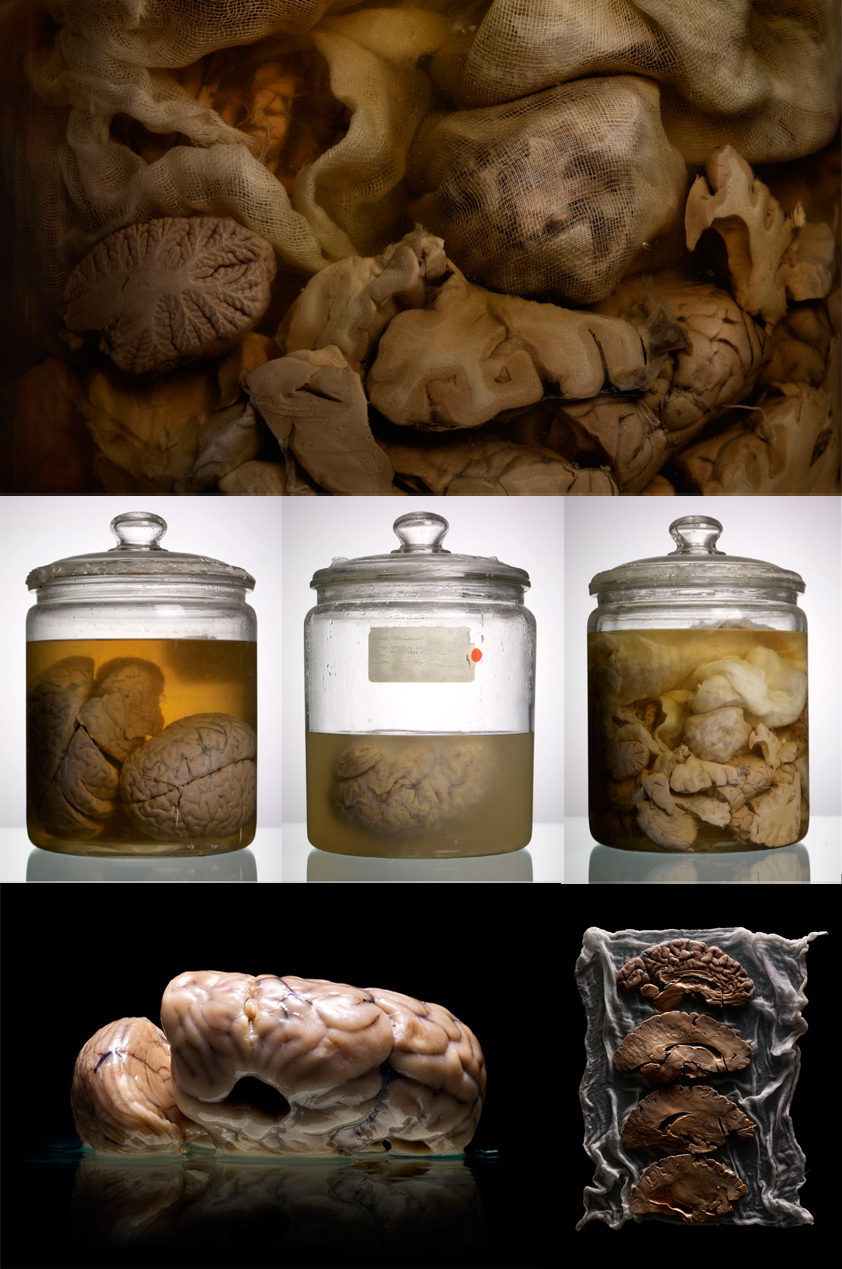 Fascinated by art and science, Adam Voorhes works in his Austin, Texas, photographic studio creating images that are sometimes childlike and often challenge the viewer. Collaborating with his wife and creative partner Robin, he is frequently commissioned by magazines such as Details, Wired, GQ, Esquire, O, Texas Monthly, and ESPN among others. The team is known for solving difficult creative problems through intense brainstorming and executing challenging and abstract images with ease. They are both ferocious lovers of bulldogs.
Born in London in 1974, Alex Hannaford has worked as a journalist and editor since he graduated in 1997. He was as a feature writer and commissioning editor on the London Evening Standard before going freelance in 2003; has taught journalism at Kingston University in the U.K. and authored a biography (Last of the Rock Romantics) for Ebury Press, part of the Random House group. He has written for the Sunday Telegraph and Sunday Times magazines, The Guardian, GQ, Esquire, The Atlantic, and the Texas Observer. He has reported from West Africa, Hong Kong, Guantanamo Bay, and the U.S. and currently calls Texas home. In 2012 he was awarded a Dart fellowship at Columbia University's school of journalism.
Psychiatry / Still Lifes / Medical Oddities
Hardcover, 9 x 10-1/2 inches, 176 pages
ISBN: 978-1-57687-708-1, $39.95
A preview is available by clicking here: Malformed
High–res scans to your specification are available upon request; scanning from the book or lifting images from the mechanical file are strictly prohibited. Mandatory credit line: From Malformed by Adam Voorhes and Alex Hannaford, published by powerHouse Books.
Facebook | Tumblr | Twitter | Instagram
For more information, please contact Declan Taintor, Publicist
powerHouse Books, 37 Main Street, Brooklyn, NY 11201
Tel: 212–604–9074 x118, Fax: 212–366–5247, email: declan@powerHouseBooks.com

© Copyright 2014 powerHouse Books